MBA Premier Member Profile: Adwerx
(One in a continuing series of profiles of Premier Members of the Mortgage Bankers Association.)
Used by more than 25% of the top brokerage firms and more than 15% of the top mortgage originators in the U.S., Adwerx delivers personalized, omnichannel brand marketing and automation at enterprise scale. Adwerx customers deliver customized ads programmatically across streaming TV, popular websites, Facebook and Instagram and mobile apps, while driving growth through digital marketing automation that increases brand visibility, boosts productivity by 35% and reduces turnover by 42%.
In May, Adwerx sponsored a webinar, Scroll-stopping Content: How to Make Your Ads Impossible to Ignore. for a recording of the webinar, click https://meet.adwerx.com/view/new/mail?iID=RJ3CFhS2ZGQFmfmMmdBT.
Adwerx works across the U.S., Canada, and Australia. Learn more about Brilliantly Simple Digital Advertising at adwerx.com.
Key Senior Personnel
–Jay Hall, CRO
–West Hubbard, VP of Business Development
–Keith Strombotne, Director of Business Development
–Geoff Daniel, VP of Sales
MBA NEWSLINK: What are some key trends your company is tracking?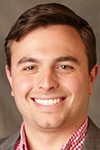 WEST HUBBARD: Increased ROI from targeted advertising; integrations between key systems; regulation and restrictions in online advertising and data; housing inventory; and mortgage refinance
NEWSLINK: Why did your company join the Mortgage Bankers Association?
HUBBARD: Better industry knowledge/relations; and finding new business in the mortgage industry.
(MBA Premier Member Profiles are a service provided by the Mortgage Bankers Association and MBA NewsLink as a service to MBA Premier Members. Publication does not constitute an endorsement of a particular company, product or service. For more information about the MBA Premier Member program, call 202/557-2779.)