#MBANAC21: Senators Outline Housing Priorities

(Senate Banking Committee Chairman Sherrod Brown, D-Ohio, addresses MBA National Advocacy Conference.)
Three members of the Senate Banking Committee visited the Mortgage Bankers Association's National Advocacy Conference to talk about renewed interest in housing priorities in the 117th Congress.
Banking Committee Chairman Sherrod Brown, D-Ohio; Ranking Member Pat Toomey, R-Pa.; and Sen. Raphael Warnock, D-Ga., agreed on one key point: housing will play an outsized role in discussions on Capitol Hill regarding the economic recovery. However, the partisan divide was evident in the senators' remarks suggesting consensus could be difficult to attain.
Brown, who took over as Banking Committee chairman this year; and Warnock, who made it possible with his upset win in Georgia this past January; expressed strong support for the Biden Administration's massive $2 billion infrastructure bill, the American Jobs Plan (Republicans are proposing a more conservative $800 million alternative) and said housing would be a key component.
"You can't talk infrastructure without talking housing," Brown said. "When I was born, my hometown, Cleveland, Ohio, had 950,000 residents; today it has less than 400,000. There are real infrastructure needs in our cities and rural areas, and we need to pass this infrastructure bill."
Brown said the infrastructure bill is critically important coming out of the coronavirus pandemic. "After more than a year we're finally getting this virus under control," he said. "As we recover, we have to commit not to going back to the same old system in health care and schools and housing…What's heartbreaking is that black homeownership rates are still as bad today as it was 50 years ago when housing discrimination was still legal. It's incumbent upon us to fix that and it's our priority on the Banking Committee."
Owning a home, Brown added, " makes a big difference to life expectancy to schools to neighborhoods. As mortgage bankers, you know the joy in peoples' faces when they buy a home."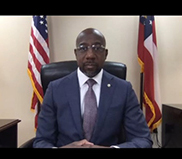 Warnock, who grew up in public housing, the 11th of 12 children, agreed. "Housing is dignity," he said. "I witnessed first-hand the struggle my parents went through to achieve homeownership. It's something that I keep in mind; it is the reason why I wanted to be on the Banking Committee…and I will be very focused on housing."
Warnock said expanding affordable housing opportunities is one of his highest priorities. "Housing is infrastructure; it's more than roads, bridges and buildings," he said. "Infrastructure includes housing and it has to include affordable housing."
Toomey, who announced earlier this year he would not seek re-election, had a different take, saying the federal government is stifling the housing market.
"Our housing system has been a socialized system for some time now, with Fannie Mae and Freddie Mac and FHA basically deciding who gets a home for how much," Toomey said. "Today, the federal government is subsidizing the GSEs, which has led to more government control. The federal government runs Fannie Mae and Freddie Mac, approves their criteria; and through the FHA the federal government has been the guarantor of higher-risk lending. And I'm concerned that the federal government continues to forward that kind of thinking, which I think is harmful."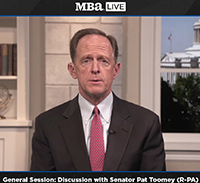 Toomey said the federal government currently restricts the supply of housing. "Existing government support does not guarantee increased housing," he said. "There has been no discernable increase in the U.S. homeownership rate since the 1960s. I would like to see housing move toward the private market, but the GSE duopoly prevents that—the GSEs are simply too big to fail, and the implicit government guarantee has allowed them to increase their dominance, which has also stifled innovation. Increasingly, the GSEs' approach has become the only approach."
Toomey said he will continue to support market-oriented reforms of the housing process. "It's been 12 years since the GSEs went into conservatorship; nothing has been done since," he said. "However, while it is no secret that Chairman Brown and I have differing views on a lot of issues, but on housing I think we can find some common ground."
Toomey expressed concerns about the new direction of Consumer Financial Protection Bureau. "I intend to watch very closely what the CFPB is doing," he said. "I fear they will go back to the old ways of exceeding its authority."
Both Brown and Toomey agreed on one point, however. "In times of need, MBA has stepped up, and we appreciate that," Brown said.
"Thank you for your work and your advocacy," Toomey said. "It's important that we in Congress understand your perspectives, so that we can help you and the country."