Dealmaker: JBG Smith, J.P. Morgan Global Alternatives Form Joint Venture for Potomac Yard Redevelopment
JBG Smith, Bethesda, Md., and J.P. Morgan Global Alternatives, New York, formed a joint venture to develop nearly two million square feet of new mixed-use space near Washington, D.C.
The site is in Potomac Yard, the southern portion of National Landing in Alexandria, Va., near Amazon's future second headquarters. Amazon expects to open HQ2 in 2028.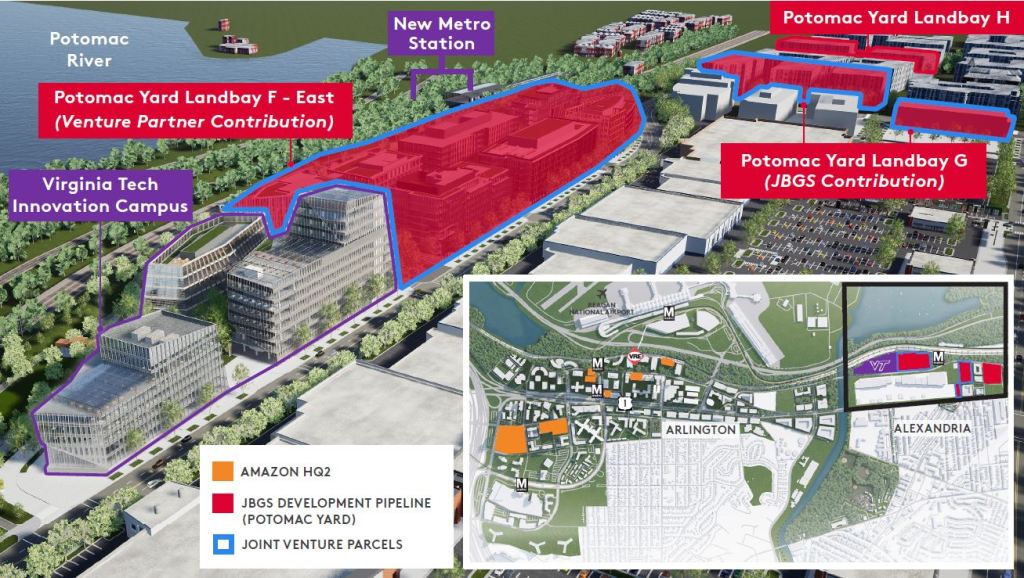 Institutional investors advised by J.P. Morgan Global Alternatives contributed a land site currently entitled for 1.3 million square feet of development at Potomac Yard Landbay F, while JBG Smith contributed adjacent land with more than 700,000 square feet of development capacity at Potomac Yard, Landbay G.
In addition to its 50 percent ownership stake in the joint venture, JBG Smith will act as developer, property manager and leasing agent for all future commercial and residential properties on the site. This transaction expanded JBG Smith's economic ownership interest in National Landing to 79 percent of all unencumbered future development density.
The assets included in this joint venture are adjacent to Virginia Tech's $1 billion Innovation Campus one mile south of Amazon's headquarters. The plans call for two multifamily buildings totaling 419,000 square feet, which JBG Smith plans to start construction on within the next 12 months.
"Just as Amazon is serving as a catalyst for further private investment in offices, apartments, recreation and public space in the center of National Landing, Virginia Tech plays a similar role in the southern portion of National Landing," said Ed Chaglassian, Executive Vice President and Head of Acquisitions at JBG Smith.
The remaining 1.6 million square feet of mixed-use development across Landbays F and G are included in JBG Smith's future development pipeline. the real estate investment trust has served as master developer for Potomac Yard Landbay F since 2013 and is currently master developer for Virginia Tech's Innovation Campus. The entire site is within walking distance of the new Potomac Yard Metro station, scheduled for a spring 2022 opening.