Michael Miller: Bridging the Digital Divide of People, Process & Technology
Michael Miller is Vice President of Strategy with Sourcepoint, Palm Bay, Fla. He has more than 25 years of experience and is responsible for leading the company's growth, focus and go-to market strategy for the company's digital products and service offerings.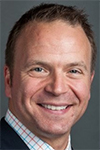 Bill Belichick, one of the most successful coaches in professional football history, once said a team is "not the strength of the individual players, but it is the strength of the unit and how they all function together." Such wisdom surely resonates with many business leaders in our industry. But how well do they live by it?
The fact is that most organizations struggle with gaps between their people and processes. These gaps inevitably keep a company from reaching its full potential. Too often, we see people performing repetitive tasks that don't require a great deal of brainpower or mundane work that someone else has already done. These scenarios inevitably lead to inefficiency, boredom, and ultimately, a poor customer experience.
But what if there was a way to close these gaps through automation? Well, there is—but it requires reimagining how technology can be applied more holistically throughout the organization, so every "player" in the company can perform to the best of their abilities while strengthening the unit into a successful team.
Unleashing Human Potential
In football, success comes by optimizing the talents of individual players, getting every player to perform at an optimum level, making the fewest mistakes possible, and putting the team in the best position to win games. Great mortgage operations basically use the same template. They create great teamwork by implementing strategies to take full advantage of the skills and expertise from every employee and provide tools that will make the entire operation function like a well-oiled machine.
In the mortgage industry, no one tool better enables people to perform at their optimum capacities than automation. And certainly, there are many examples of automation in use within the industry today. Surprisingly, however, most mortgage lenders still have yet to use automation holistically to optimize individual skills and reduce common mistakes. Even fewer are using technology to orchestrate operations in origination, title, post-closing, or servicing to succeed at a high level.
For decades, back-office mortgage functions were primarily analog—it took significant human effort to push mortgages through the channel. If there was high volume requiring faster production, you simply augmented your staff by putting more humans on the job. And yet in spite of new technologies available to automate manual tasks, many lenders and servicers are still doing the same thing today.
It's true that a number of mortgage companies have made great strides toward adopting technology at the front end of the transaction, which has revolutionized how originators work with customers. What most need to do now is figure out how to bring more complete digital solutions to the table for back-office functions. The key is improving how team members interact with each other behind the scenes to perform and complete tasks. When that happens, teams become more efficient, turn times accelerate, and borrowers receive a better experience.
Automation brings opportunities to the table, as well. It pulls all unnecessary or repetitive tasks, as well as the excess information and events that don't impact the loan, out of the hands of people and automates them. The human element is then applied to one-off situations that truly need greater attention, such as when a borrower's information doesn't line up or there is insufficient documentation. As a result, team members develop better judgment, problem solving skills, and detailed decision-making abilities, which makes the organization stronger.
For example, automated tools can give borrowers the ability—and flexibility—to apply, submit documentation, and find answers to simple, standard questions without the need of human intervention. As an example, If you take a W-2'ed borrower who has all the necessary documents for employment, income, and assets and move them on automatically by validating the document information against the data on the application, you're able to allow employees to focus on loans for self-employed borrowers, which are typically more complex. As a result, the team as a whole learns more and increases their overall expertise at analyzing self-employed borrowers.
Think Automation Ecosystem
Sourcepoint is in a unique position because we're not a traditional lender or servicer, but we function in all spaces of the mortgage loan life cycle. We're one of the few institutions that could potentially touch a customer at the moment they begin contemplating getting a mortgage all the way to making the last payment. One of our keys to success, however, is that we've been able to integrate systems to minimize repetitive processes and tasks from our people while improving the customer experience.
In other words, there's not likely to be a single technology that enables an organization to operate more efficiently and get everyone to perform at their best, but an ecosystem of automated technologies. It's how you add all of it together through the integration of all these solutions that increases pull through rates and improves the productivity of internal staff. What that ecosystem looks like will differ from one organization to the next.
One of the biggest challenges to creating this sort of ecosystem is that the industry has many third party services that need to be involved. Whether it's title, attorneys, credit vendors, or other circumstantial services; the laundry list is pretty extensive. To create their own ecosystem of automation, most companies will need to rethink their current uses of technology and carefully plan out what works for their business. From what I've seen, the closer companies get to a best practices workflow, the better their KPIs and overall results have been—and their customers had a much more positive experience, too.
As I see it, most mortgage organizations are reaching a precipice that they will only survive by making fundamental change. Non-bank, Internet-based lenders that have entered the space in recent years have already figured a lot of this stuff out. They've asked themselves the question, "How do I do it better?" They've come to the table with these tools already in place, and they are creating a better experience for borrowers.
That means any organization that decides to continue doing business the same way they did yesterday will be left behind. The cost of closing a mortgage simply won't be sustainable—nor will the ability to attract and retain employees and borrowers. But the more a company can apply automation to fill in gaps in efficiency while getting everyone to work to the best of their abilities, the more likely they'll achieve long term success.
(Views expressed in this article do not necessarily reflect policy of the Mortgage Bankers Association, nor do they connote an MBA endorsement of a specific company, product or service. MBA NewsLink welcomes your submissions. Inquiries can be sent to Mike Sorohan, editor, at msorohan@mba.org; or Michael Tucker, editorial manager, at mtucker@mba.org.)