MBA Premier Member Profile: Snapdocs
(One in a continuing series of profiles of Premier Members of the Mortgage Bankers Association.)
Snapdocs is a mortgage technology company that is hyper-focused on defragmenting the critical last mile in the loan origination lifecycle, the closing process. While we are a leading provider of digital mortgage closings, first and foremost we are a closing solution that has pioneered a new category of core mortgage technology. We differentiate ourselves from other digital mortgage closing technology providers on two primary fronts:

Snapdocs enables lenders to leverage one platform to manage all of their closings, from traditional, fully wet-ink signed closings to fully remote online eClosings, and every form of hybrid in between. We recognize that closings today, and for the foreseeable future will continue to fall within a spectrum of closing types due to numerous factors including investor requirements, jurisdictional treatment of eNotarization and eRecording, title underwriting policies, and borrower preferences. We provide lenders with the flexibility and agility needed to optimize their closing approach based on this matrix of factors, scale their approach in line with the market's broader adoption, and achieve their objectives for digital mortgage closings.
Snapdocs is the only closing solution in the market that truly recognizes and fully accommodates the role each participant plays in the closing transaction. In addition to the lender, we treat the borrower, settlement agent, and notary as key stakeholders. We optimize the experience for each user, and provide a single source of truth where all participants can seamlessly access the information they need when they need it, readily communicate with one another, and most importantly, collaborate to simplify the closing process for everyone involved. This approach ensures all participants support the adoption of, and see value in, digital mortgage closings.
From transaction to transaction, the network of counterparties, the requirements, and the underlying technology platforms will vary, and in most cases these are factors that the lender is unable to limit or control. The success of Snapdocs' solution comes from our bias towards uniformity in process, and our ability to support any closing type and any mix of participants with robust, multi-party workflow automation and 99.99% document accuracy. And, we do so while seamlessly integrating with participants' existing technology stacks including point of sale, loan origination, document provider, and title production systems. In short, by seeing the problem differently, we've solved it differently.
This approach has served us well. Founded in 2013, Snapdocs has raised more than $100 million, grown to more than 325 employees, and built the largest mortgage closing network in the industry. With approximately 300 lenders, 27,000 settlement and title professionals, and 110,000 notaries on the Snapdocs platform, we're proud to have supported the mortgage industry during unprecedented times by powering nearly 2 million closings in 2020. Even still, the figures we're most proud of is the value we've brought to our customers. For example, on average, lenders using Snapdocs have reported the ability to support 40% more closings without adding headcount along with an 85% reduction in the allocation of resources to post-closing quality control efforts.
Key Senior Personnel
— Aaron King, CEO
— Briana Ings, VP Product
— Todd Maki, Head of Business Development & Partnerships
— Camelia Martin, Head of Industry & Regulatory Affairs
MBA NEWSLINK: What are some key trends your company is tracking?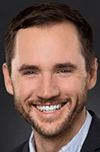 AARON KING: The adoption of digital mortgage closings is top of mind for Snapdocs' customers, and therefore we play close attention to the factors that allow mortgage industry participants to be as "e" as they can be. The use of electronic promissory notes (eNotes) has nearly tripled year-over-year, and approximately a quarter of the lenders registering (or in the process integrating to register), eNotes are using Snapdocs. Coupled with the fact that some form of eNotarization is accessible in nearly every state, and more than 85% of the population lives in a jurisdiction that allows for eRecording, the tipping point for digital mortgage closings is well within reach. This momentum is incredible, and the Snapdocs team has been fortunate to have a front-row seat to both enable and witness the network effect that each new digital mortgage closing participant has on the entire ecosystem.
NEWSLINK: Why did your company join the Mortgage Bankers Association?
KING: Snapdocs serves a broad spectrum of the mortgage industry by providing critical and unparalleled closing infrastructure. Membership in the Mortgage Bankers Association is imperative to our mission of ensuring that we stay close to the challenges and opportunities facing the mortgage industry, and that we continue to develop our products and services in innovative ways that drive value to our customers and the industry as a whole.
NEWSLINK: How has being an MBA Premier Member benefited your company?
KING: While the industry has made significant strides in digital mortgage closing adoption, there is still room for improvement, particularly in the form of increasing transparency and uniformity in digital mortgage closing policies. Snapdocs actively participates or holds leadership positions in a number of MBA and MISMO forums that champion this cause, including the MBA Technology Vendor Workgroup, the MISMO eMortgage Community of Practice, and the MISMO Remote Online Notarization Development Workgroup, among others. We applaud the MBA and MISMO for creating opportunities for the industry to collaborate on these and other important topics that are rapidly transforming the mortgage industry.
(MBA Premier Member Profiles are a service provided by the Mortgage Bankers Association and MBA NewsLink as a service to MBA Premier Members. Publication does not constitute an endorsement of a particular company, product or service. For more information about the MBA Premier Member program, contact Rashida Holmes at rholmes@mba.org or 202/557-2779.)