Hotel Profits Improve as Recovery Spreads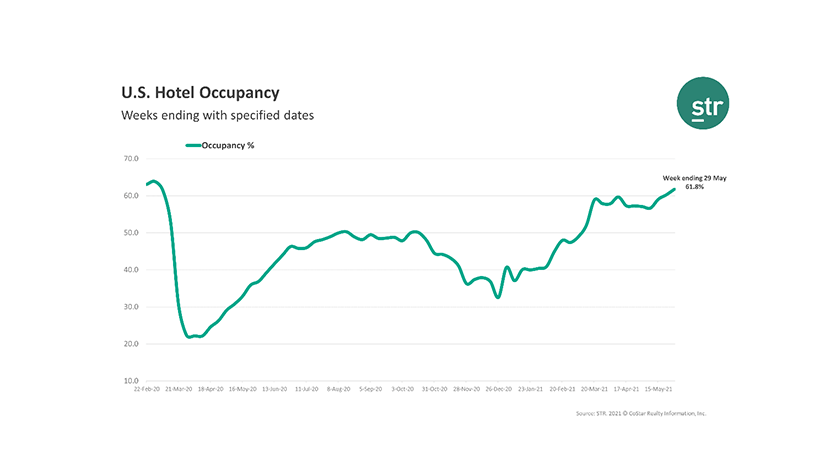 STR, Hendersonville, Tenn., said hotels saw an encouraging April as more revenue flowed through to the bottom line.
Gross operating profit for U.S. hotels reached 60 percent of the comparable April 2019 level, said STR Assistant Director of Financial Performance Raquel Ortiz. She noted STR currently benchmarks recovery against comparable periods from 2019 rather than 2020 due to last year's unnaturally steep pandemic-driven performance declines.
Each STR profitability metric improved to a point higher than any month since February 2020 except for labor costs, which increased compared to March. Gross operating profit per available room reached $28.67 and total revenue per available room increased to $87.34. Total labor costs per available room increased to $26.76 in April.
Ortiz noted 92 percent of the hotels STR sampled were profitable on a gross operating profit per available room basis, similar to pre-pandemic levels.
"There is a long way to go, but if demand surges as expected this summer, we should continue to see accelerated profitability and improved margins around the industry," Ortiz said. "Labor is the hot topic and we'll continue to monitor that as demand increases and there is even greater competition for workers to service properties."
In other promising signs for the sector, CBRE Hotels, Atlanta, said the college-educated unemployment rate–a key business travel driver–has improved consistently since early 2021 and recently dropped to within 100 basis points of its pre-pandemic level. Business investment and business confidence are both at record highs and business travel word searches on hotel listing sites are down just 20 percent from pre-pandemic levels.
"The recovery is not just leisure-based at this point," CBRE said in its U.S. Hotel State of the Union report.
In an interesting twist, CBRE said the booming construction cost increases facing all commercial real estate sectors could benefit the hotel sector by limiting supply growth, which should bolster same-store RevPAR growth this cycle.
"The question is when, not if, RevPAR will recover," CBRE said.