CDC Extends National Residential Eviction Moratorium for Final Time to July 31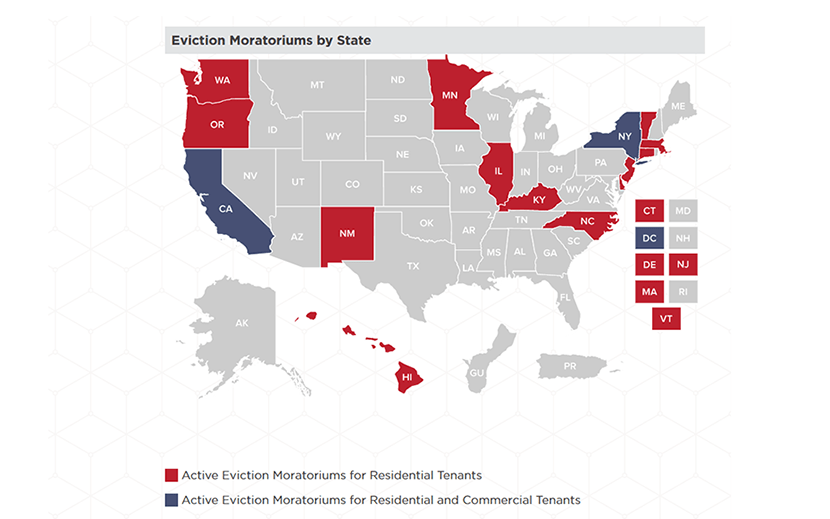 The Centers for Disease Control and Prevention on Thursday extended its nationwide residential eviction moratorium by another month, to July 31.
However, the CDC said it intends this extension to be the final. The CDC implemented the moratorium in September 2020; it had been set to expire on June 30.
Also on Thursday, the Treasury Department released updated frequently asked questions and a fact sheet with details on further steps of its goal of getting rental assistance into the hands of those who need it the most. The Mortgage Bankers Association will provide further analysis shortly.
The Federal Housing Finance Agency also announced Fannie Mae and Freddie Mac will extend their moratoriums on single-family foreclosures and real estate owned evictions until July 31. The foreclosure moratorium applies to Enterprise-backed single-family mortgages only. The REO eviction moratorium applies to properties acquired by an Enterprise through foreclosure or deed-in-lieu-of-foreclosure transactions. The current moratoriums had been set to expire on June 30.
FHFA said it will monitor the effect of the COVID-19 servicing policies on borrowers, the Enterprises and their counterparties and the mortgage market. The agency suggested homeowners and renters visit consumerfinance.gov/housing for more information on their relief options, protections and key deadlines.​
Earlier this month, MBA and a broad real estate coalition sent a letter to President Joe Biden commending the administration for the steps it has taken to stabilize the housing sector during the COVID-19 pandemic, but citing the broad financial assistance to households, significantly improving job market, successful vaccination efforts and dwindling COVID-19 cases, MBA also urged the administration to sunset the federal moratorium on evictions on June 30.
Separately, on June 2, a three-judge U.S. Court of Appeals for the D.C. Circuit panel unanimously denied a request by a group of landlords to resume evictions, leaving the temporary nationwide eviction moratorium intact. The plaintiffs, Alabama Association of Realtors, filed an emergency appeal with the U.S. Supreme Court, which is pending the court's consideration.
At the state level, California lawmakers are debating a state budget that may include an extension of the state's eviction moratorium, which is set to expire on June 30, 2021. Yesterday, Los Angeles announced that its county residential and commercial eviction moratorium will last until September 30.
MBA will continue to follow these and other developments on a state and federal level regarding eviction moratoriums and rental assistance. As a resource to members, MBA also compiles a weekly tracker of state eviction moratoriums, accessible here.