Dealmaker: Arbor Funds $112M in Fannie Mae Loans
Arbor Realty Trust, Uniondale, N.Y., financed $111.7 million in Fannie Mae loans for properties in six states.
Ryan Duff, Vice President in Arbor's New York office, originated six loans. The following properties received financing through Fannie Mae's Delegated Underwriting and Servicing program:
–Oaks at Five Mile Apartments in Dallas received $9.6 million in acquisition financing. Built in 1977, the two-story, 196-unit property is near the Dallas Zoo.
–Tuscany Village Apartments in Oklahoma City received $9 million in refinancing. The community includes 306 units with hardwood floors, vaulted ceilings and built-in bookshelves.
–In Astoria, N.Y., 28-unit community 11-07 Welling Court received $12.4 million in refinancing.
–Wingate Apartments in Forest Park, Ga., received $11 million in refinancing. The multifamily property has 211 units near U.S. Army Fort Gillem.
–Inverness Apartments in Tuscaloosa, Ala., received $23.2 million in acquisition funding. The 208-unit garden-style property was built in 1996 and offers one-to four-bedroom floorplans with fireplaces and balconies.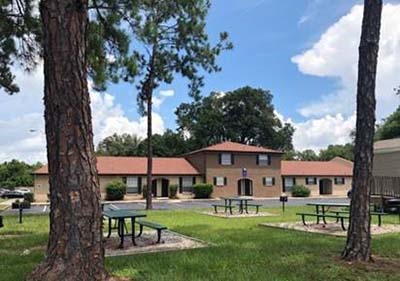 –El Rancho Apartments in Dallas received $12 million in refinancing in late 2020. Built in 1968, the 308-unit gated community was renovated in 2015.
Arbor also funded a $34.5 million Fannie Mae Multifamily Affordable Housing Green Rewards loan in Jacksonville, Fla. for Topaz Villas apartments. The 444-unit property received a 12-year fixed-rate loan with two years of interest-only payments followed by a 30-year amortization schedule.
Arbor Senior Vice President and Western Regional Director Garth Davis originated the deal. "We provided competitive bridge-to-permanent acquisition funding, which allowed our sponsor to reposition the property in the market and subsequently secure a Green Fannie Mae take-out, which maximized proceeds and provided a lower interest rate," he said. He noted property tenants received support from Arbor's Rental Assistance Program, an initiative between Arbor and its borrowers to ease financial burdens for residents affected by COVID-19.
Topaz Villas includes two-bedroom townhomes and one- to three-bedroom apartments. The affordable housing property dates to 1972.