Dealmaker: KBS Completes $527M in Refinancing
KBS, Newport Beach, Calif., completed three refinances totaling $527 million for assets in Chicago, San Jose and Charlotte, N.C.
The transactions involved five different lending institutions. Attorneys Bruce Fischer, Tatyana Litovsky and Martin Lee and Paralegal Amanda Kennedy of law firm Greenberg Traurig LLP represented KBS as legal counsel in each of the refinancings.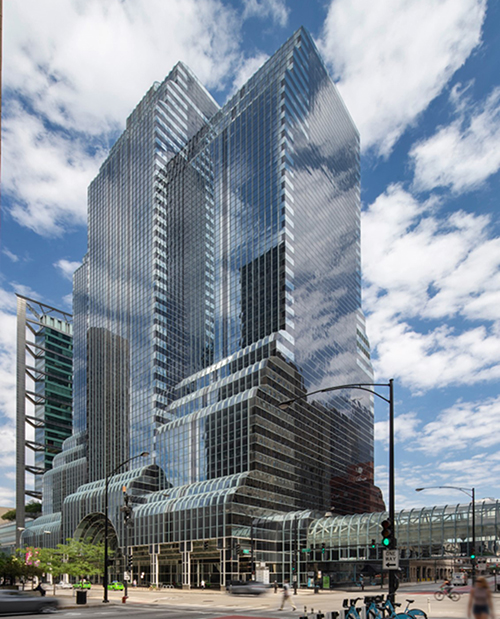 The recently closed refinancing transactions included Accenture Tower in Chicago. KBS secured a $375 million refinancing loan for the 40-story, 1.4-million-square-foot office tower.
The loan consisted of a 75 percent term loan/25 percent revolving loan with a three-year initial term and two one-year extension options. U.S. Bank, Minneapolis, and Bank of America, Charlotte, led the loan's arrangement, with U.S. Bank serving as the administrative agent and Deutsche Pfandbriefbank AG, Munich, Germany, joining the lender group at closing.
Built at 500 West Madison in 1987, Accenture Tower is a Class A property that sits above one of the two main train stations in Chicago's west loop. The first two levels provide 80,000 square feet of retail space and the second level connects directly with the Ogilvie rail station, providing direct access to city trains, buses and expressways.
KBS also secured a $123 million refinancing loan for The Almaden, a three-building, 416,125-square-foot San Jose office park. The loan, which included a three-year initial fixed-rate term with two one-year floating-rate extension options, was issued by Equitable Financial Life Insurance Co., New York.
Developed between 1980 and 1981 and renovated in 2006, The Almaden is located at 1, 55, and 99 Almaden Boulevard.
KBS also secured a $28.7 million refinancing loan for Crossroads Distribution Center, a four-building 496,725-square-foot industrial distribution center in Charlotte. The loan, issued by Citizens Commercial Real Estate, Providence, R.I., came with a three-year initial term and two LIBOR-based one-year extension options.
"Crossroads Distribution Center represented a prime opportunity for Citizens to refinance a highly desirable distribution property in one of the top industrial markets in the nation," said KBS Executive Vice President of Financing Rob Durand.