Zillow: Home Builders Still Playing Catchup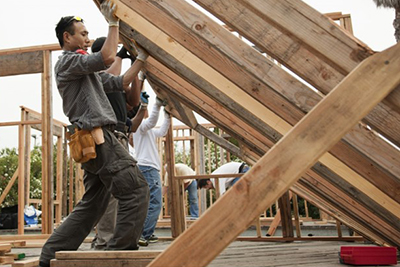 Zillow, Seattle, said limited supply of for-sale homes is a key reason home prices have risen quickly during the COVID-19 pandemic.
A Zillow analysis found a shortage of 1.35 million new construction homes since the Great Recession in the 35 largest U.S. housing markets. The report said builders are racing to catch up, but supply chain disruptions and labor shortages are slowing their efforts.
Zillow Senior Economist Jeff Tucker, author of the report, said new home construction in the U.S. reached an important benchmark in February, when more than 1.5 million residential building permits were issued over the prior 12 months. This level of activity indicates a housing boom that hasn't been seen since August 2007. The momentum continued through the summer, reaching 1.69 million permits in the year ending in August. This building boom has drawn comparisons to the glut that characterized the Great Recession, but in truth, builders are only beginning to fill the hole of unmet demand that was dug in the fallout from the mid-2000s housing bust.
"Builders in recent months have put the pedal to the metal to get new homes up and meet a rush of demand, and we just saw the first full year of above-average construction since the mid-2000s housing crash," Tucker said. "This isn't a new boom cycle of new construction so much as it's an attempt to get even from the last bust. There is still a long way to go to catch up from more than a decade of slow construction, and some markets have longer to go than others."
Permits only tell half the story, the report said; those homes still need to be built, but builder activity has been hobbled by supply chain disruptions and labor shortages. Despite builders' best efforts, the completion of new home builds has stalled after a blistering spring, and the latest reading shows an 8.4% dip since last year. The number of homes permitted, but not started, is up 44.8% from a year ago.
The report also noted it's also not clear whether simply keeping up with the pace of prerecession construction is enough to meet current demand. It said the average household size is about as small as it has ever been — 2.5 people per household now, compared to three people per household as recently as the mid-1970s — meaning more homes are needed as the population grows. There are also millions of "missing" households over the past 15 years: households headed by people who, historically, would be expected to have their own home by their current age but have been unable or unwilling to move out on their own. Those households need to be taken into account when considering how many homes to build.
The report said implications of this shortfall are being felt now as home prices surge across the country. The demographic makeup of the U.S. and the ability for many to work remotely have boosted housing demand. The shortage of homes in the most heavily populated markets have left home shoppers competing for a limited supply, pushing up prices. Since the Great Recession, single-family residences have appreciated much more than other types of homes, such as condos and co-ops, up 47.9% since January 2008, compared to 29.4%.