Consumer Price Index: Paying Like It's 1982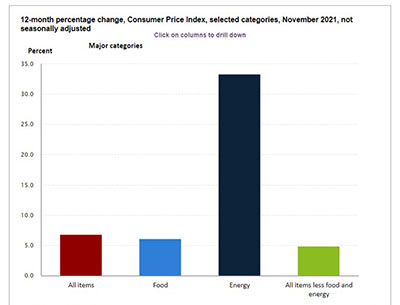 Inflation—sure to be a topic at this week's Federal Open Market Committee meeting—roared like a lion in November, jumping by nearly 7 percent year over year to its fastest pace in nearly 40 years, the Bureau of Labor Statistics reported Friday.
The Consumer Price Index for All Urban Consumers increased by 0.8 percent in November on a seasonally adjusted basis, after rising by 0.9 percent in October. Over the past 12 months, the all-items index increased by 6.8 percent before seasonal adjustment, the fastest annual increase since 1982.
As in October, the monthly all-items seasonally adjusted increase resulted from broad increases in most component indexes. The indexes for gasoline, shelter, food, used cars and trucks and new vehicles were among the larger contributors. The energy index rose by 3.5 percent in November as the gasoline index increased 6.1 percent and other major energy component indexes also rose. The food index increased by 0.7 percent as the index for food at home rose 0.8 percent.
BLS also reported the CPI for Urban Wage Earners and Clerical Workers increased by 7.6 percent over the past 12 months; for the month, the index rose 0.5 percent prior to seasonal adjustment. The Chained CPI for All Urban Consumers increased by 6.7 percent over the past 12 months; for the month, the index increased 0.5 percent on a non-seasonally adjusted basis.
"Pressures remain broad based, with supply chains still struggling to meet turbocharged demand for goods, and services inflation only recently beginning to reflect the pandemic's effects on housing costs," said Sarah House, Senior Economist with Wells Fargo Economics, Charlotte, N.C. "We expect the monthly trend in price gains to moderate ahead, but there is a lot of daylight between the current pace of inflation and the Fed's goal."
House noted the dip in gasoline prices at the end of November was not enough to offset the earlier rise from October. "We expect energy will offer some relief in the near term though, with gasoline prices and oil down 1.5% since the end of November, oil prices down about 15% from recent highs, and natural gas in storage more closely aligned with seasonal norms," she said. "Beyond energy, however, we see little meaningful relief in sight."
House said Wells Fargo expects headline CPI to peak on a year-ago basis at 7% in the first quarter before base effects get tougher come spring. "Monthly gains should continue to trend lower as the acute pressures from goods inflation begins to ease up and offsets the emerging momentum in services inflation," she said. "However, another big wave of COVID cases this winter could delay relief by keeping goods demand turbo-charged and global supply lines strained."