CMBS Delinquency, Special Servicing Rates Dip Again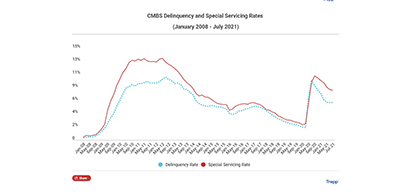 Chart Credit: Trepp

"More of the same" was the commercial mortgage-backed securities delinquency rate headline in July, according to Trepp Senior Managing Director Manus Clancy.
The Trepp CMBS delinquency rate fell again [in July], but the rate of decline has leveled off considerably from the improvements the market was seeing six months ago. The delinquency rate fell four basis points in July to 6.11 percent.
"After two huge jumps in May and June 2020, the market has seen modest improvement and the rate has now fallen for 13 consecutive months," Clancy noted.
After a surge in May and June 2020, the CMBS delinquency rate has fallen steadily ever since. "The rate hit terminal delinquency velocity [in second-quarter 2020], meaning most of the borrowers that felt the need for debt service relief had already requested it," Clancy said. "Put another way, if a borrower did not need relief in April, May or June of 2020, in most cases the borrower did not end up needing it at all. Since then, the CMBS delinquency rate has been on a downward trend, with the largest drop in the rate seen in February 2021."
Kroll Bond Rating Agency, New York, said lodging delinquencies continue to decline from early pandemic highs but remain "elevated" at 19.5 percent. Hotel chains that focus on business and conference travel tend have higher delinquency rates, KBRA reported. These chains include Sheraton (46.8 percent delinquency rate as of June 30), Marriott (32.5 percent) and Hilton (22.1 percent). These chains are generally considered "Upper-Upscale," the segment that saw the highest revenue per available room decline (-38.7 percent) and the highest delinquency rate (23 percent) among chain scales.
Upper-midscale hotel properties such as DoubleTree Club (45.1 percent delinquency rate) and Hampton by Hilton (12.2 percent) had the second-highest delinquency rate (22.4 percent) and largest delinquent loan balance ($2.8 billion), KBRA said.
The KBRA report, Keying "Inn" on Hotel Chain Delinquencies, said the economy chain scale has benefited from growing leisure demand and reported some of the lowest delinquency rates among all segments at 15.2 percent. RevPAR actually grew 6.7 percent in this segment between June 2019 and June 2021.
Trepp said the CMBS special servicing rate dropped for the tenth consecutive month in July to 8.14 percent, a 10-basis-point decline from May. "While the drop indicates continued signs of recovery, this is the smallest drop since January 2021," Trepp noted.
But the percentage of loans on servicer watchlist rose for the seventh consecutive month, inching up eight basis points to 27.56 percent in July, Trepp reported. The largest monthly declines were concentrated in the mixed-use (up 1.90 percent to 20.71 percent) and multifamily (up 1.84 percent to 28.18 percent) property types while the industrial watchlist rate fell 31 basis points to 10.92 percent.