#MBASpring21: FHFA Director Calabria on Origination Flexibilities, Lessons Learned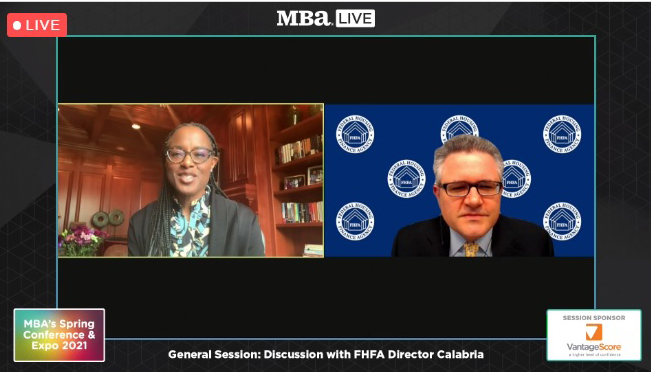 (l-r) 2021 MBA Chairman-Elect and Executive Vice President & Head of Home Lending with Wells Fargo Home Mortgage Kristy Fercho, Federal Housing Finance Agency Director Mark Calabria.)

A lot has happened in the past two years, Federal Housing Finance Agency Director Mark Calabria said yesterday at the Mortgage Bankers Association's Spring Conference & Expo.

"I think it's fair to say the world is a very different place today than it was two years ago," Calabria said. "Obviously, COVID presented a number of new challenges for the housing market."
Calabria, who was appointed director in 2019, said FHFA's response to COVID kept homeowners, renters and housing market participants safer during the crisis and kept the market going. He noted FHFA's "partnership" with the housing industry. "I know many of us at FHFA as well as Fannie Mae, Freddie Mac, banks, lenders and servicers across the board have worked long hours and have worked nights and weekends to keep borrowers in their homes," he said.
This "team effort" to keep people in their homes during a health crisis likely saved some lives, Calabria said. "I think that's something we should not lose sight of in the broader scheme of things, and I want to thank the industry for that partnership."
Kristy Fercho, 2021 MBA Chair-Elect and Executive Vice President & Head of Home Lending with Wells Fargo Home Mortgage, asked Calabria about lessons learned from the pandemic and the status of origination flexibilities such as alternative appraisals designed to support borrowers during the pandemic. "Might some of those flexibilities become permanent policies?," she asked.
"One lesson that we learned was to avoid the 'paper chase' that had happened with the [2008 relief programs] HAMP and TARP programs," Calabria said. "That's one reason we set up forbearance programs for borrowers. We really just used an honor-based system and I'm happy to say that for the most part it has not been abused. By and large, those borrowers who took forbearance were those who needed it."
Calabria said FHFA coordinated closely with FHA, USDA and others to respond to the crisis. "I think it's fair to say that close to 95 percent of the mortgage market on the single-family side has adopted fairly similar policies and much of that adoption was voluntary," he said. "I see that as a testament that we all tried to work together. We tried to come up with solutions for borrowers and I think it worked really well."
Regarding an "exit strategy" from pandemic-related origination flexibilities, Calabria said FHFA created a number of flexibilities in the appraisal process. "Of course we had a number of appraisal-waiver processes in place pre-COVID," he said. "We had an RFI process on appraisal issues writ large. We received over 1,000 pages of comments, including comments from MBA. On the appraisal process, we are still going through those comments, but our expectation is that by mid-summer we will end the flexibilities on collateral evaluation. If things change or get worse we will expand them, but we are on target to wrap up those flexibilities, take what we learned from the RFI process and implement permanent changes."
Calabria said FHFA does not want to "pre-judge" what it will learn from the comments but said the agency's timeline is to wrap up appraisal flexibilities by the summer and start to put in place by the fourth quarter at the latest whatever long-term collateral valuation flexibilities come out of the process.
"The other bucket of expanded flexibilities, such as the expanded power of attorney, some of the verification requirements, condo project reviews, things like this, we will be wrapping most of those things up this summer without extension," Calabria said. "I think the big changes that we will see long-term will probably come in the appraisal space."
Fercho noted the Consumer Financial Protection Bureau recently released a proposal seeking comments on extending the eviction moratorium through the end of the year. Calabria said FHFA should try to align its policies regarding the eviction moratorium with the CFPB and the Biden administration "to the greatest extent practical."
"As you've mentioned, CFPB has put something out for comment. It's not finalized," Calabria said. "We will certainly express our views. I do believe there needs to be an exit strategy because endless forbearance is not the right strategy for borrowers or for the industry. So we will work with CFPB to offer our perspective on the right timeline."
Calabria said it is hard for FHFA to plan its eviction moratorium policies until it see a finalized number and date from CFPB. "What CFPB put out is a proposal and I suspect they would love to hear from the industry on what the right balance is," he said. "Will we be matching that date? I can't say yet until we know what the final date is. But our hope is to try to come up with a date that we can all mirror and be consistent on."