Staying Connected While Working Remotely (MBA LIVE)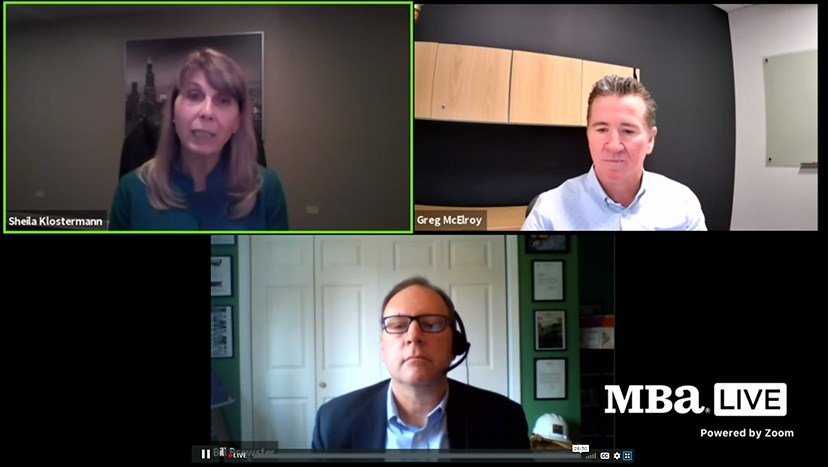 (Clockwise from top left: Sheila Klostermann, CMB, Greg McElroy, Bill Brewster)

When the coronavirus struck earlier this year, mortgage companies pivoted quickly toward remote working. Now they are working hard to keep their dispersed teams connected, analysts said Tuesday during the MBA Live Risk Management, QA and Fraud Prevention Forum 2020.
"Working from home can be a great thing," said Sheila Klostermann, CMB, Senior Manager and Quality Assurance Manager with Genworth Mortgage Insurance, Raleigh, N.C. "It certainly supports work-life balance. It can even improve productivity for some functions. But on the downside, it can be socially isolating when a person cannot connect with their peers and there is also a loss of ingenuity that comes when we are working remotely and are not co-located with one another."
Klostermann noted several actions her team has taken to support social connection and to boost team morale in a remote environment. First, they created a channel within Microsoft Teams called The Breakroom. "It's not unlike Facebook; it's a place we can share photos, post updates and share jokes," she said. "It allows us a glimpse into one another's lives much like being in an office and having a photo on your desk."
Another way the Genworth team orchestrates "social collisions" was replicating lunches. "We select random four-to-six-person groups and schedule them together for a breakfast time or a lunchtime once a month or so to give them an opportunity to catch up on what is happening both at work and at home," Klostermann said. "Our team also decided to replicate hallway conversations. So we randomized people and had pairs of them get together online for a 15-minute chat. Here we found that providing icebreaker questions is very helpful to getting those conversations going."
The Genworth team set some ground rules before rolling the idea out, Klostermann said. "We asked people to keep their comments positive, to suspend judgments and to keep the conversation away from politics," she said. "We also encourage cameras, but we don't require them. We all understand that body language can be important."
Klostermann said Genworth surveyed employees before and after orchestrating these social collisions, "and we saw improvement in everything that we measured," she said. Most notably, they found improvement in employees' comfort sharing their computer cameras. In March, only 39 percent of the team called themselves comfortable sharing their camera. That improved to 86 percent by July.
Klostermann said Genworth also saw improvement in the team understanding the value in knowing one another. That metric improved from 56 in March to 80 percent in July. "The pandemic has forced many to experiment with remote work," she said. "For many of us it might become permanent, so this gives ways to do it successfully."
Greg McElroy, Executive Vice President and Head of Correspondent Operations with AmeriHome Mortgage Co., Woodland Hills, Calif., said personal interaction is different with everyone working remotely. "How do you really duplicate that 'working in the office' feeling and energy when working remotely?," he asked.
McElroy called isolation one of the biggest challenges to working remotely. "Two others are more intangible: career development and new-hire integration," he said. "When a person is young in their career and trying to build their career, there is a lot of benefit from informal interactions with higher-ups in the company (which is less likely to happen in a remote environment). And then new-hire integration; how do you get someone embedded in your culture? Those are challenges that need to be dealt with deliberately and with intention."
The successful formula includes communication and engagement, McElroy said. First, try to maintain your regular large-group routines. Also expand smaller-group opportunities such as roundtable discussions with the company's leadership to improve information flow and transparency and to recognize employees. "Training and development and recognition are key here," he said.
McElroy noted AmeriHome purchased computer cameras for all remote employees. "For us it's a big differentiator," he said. "It's a significant impact to building culture. As Sheila mentioned, cameras help with personal interaction. We just think the cameras are key to making that happen."