Ellie Mae: Low Interest Rates Spur Millennials to Action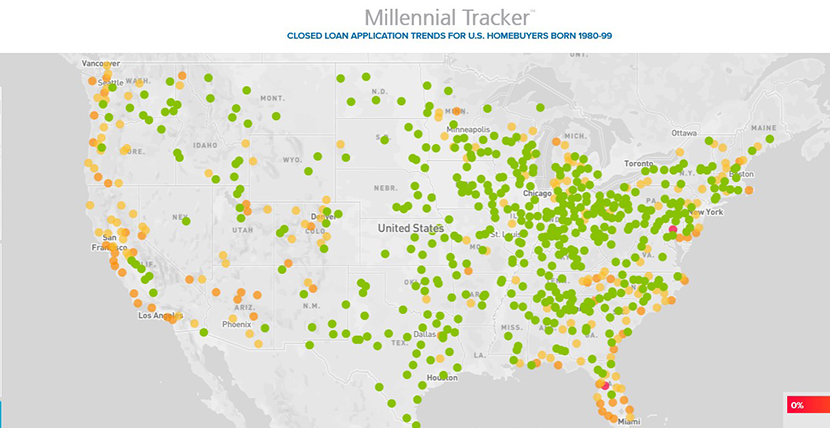 Millennials continue to take advantage of record-low interest rates, according to Ellie Mae, Pleasanton, Calif.
The Ellie Mae Millennial Tracker said refinances climbed to 40% of all closed loans for millennials in August, up 2% from the previous month. Tight inventory across markets also led to purchases dipping for the month, accounting for 59% of all closed loans. This was a stark contrast to a year ago, when purchases accounted for 74% of closed loans and the average 30-year note was 4.06%.
Ellie Mae said refinances accounted for 48% of conventional loans in August, up from 46% the month prior, and up from only 29% of closed conventional loans a year ago. Conventional purchase loans shrank to 52% for the month, down from 53% in July. VA refinances rose to 35% in August, a steady month-over-month increase from 31%. VA purchase loans fell from 69% to 65% during this same period. Meanwhile, FHA percentages have held steady for the past three months.
The report said time-to-close for all loans increased to 47 days in August, compared to 45 in July, and 42 days a year ago. Time-to-close on refinance loans also increased by one day, month-over-month, to 53 days in August. That was 11 days longer from a year ago. Purchase loans also increased by one day year-over-year to 42.
"Given the historically low interest rates, lenders are handling more loans now than they ever have before and they need tools to streamline and automate the process," said Joe Tyrrell, President of ICE Mortgage Technology.
The report said in August, older millennials locked in slightly higher interest rates of 3.105%, on average, compared to 3.087% for younger millennials. With both sub-groups seeing historically low interest rates, the share of refinance loans increased for both sub-groups of millennials.