Hotel Development Slips But Remains Robust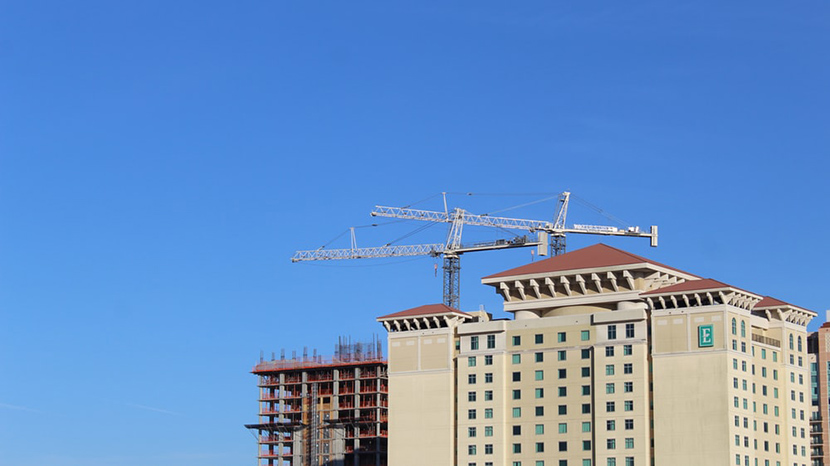 Image: An Embassy Suites hotel under construction
The U.S. hotel construction pipeline dipped during the third quarter but remains "robust," said Lodging Econometrics, Portsmouth, N.H.
The company's Hotel Construction Pipeline report said U.S. hotel construction totaled 5,282 properties with 655,026 rooms as of Sept. 30, down 7 percent by projects and 6 percent by rooms year-over-year.
"As expected, the hotel construction pipeline is off more substantially in third-quarter 2020 as compared to second-quarter 2020," the report said. "This is due in large part to an acceleration of new hotel openings in second-quarter 2020 as a result of a cyclical high number of projects under construction in first-quarter 2020 that were delayed and later opened in the second quarter. Secondly, new project announcements continue to be muted."
Hotel projects exiting the pipeline and moving to a canceled or on-hold status during the third quarter stood at 191 projects with 21,859 rooms.
Lodging Econometrics said hotel developers are closely monitoring the impact the coronavirus will have on travel demand, how quickly a widespread vaccine might roll out and the outcome of the U.S. presidential and congressional elections. "It is expected that as these events and timelines provide more clarity for developers, they will begin to more confidently move forward with their development activity," the report said.
CBRE, Los Angeles, said the return of group and business travel will play a major role in hotels' recovery. "A more remote workforce will demand more in-person connection through business travel and conventions," the firm said in its The Future for the Lodging Industry report.
Revenue per available room in dense urban markets is more than 80 percent below year-ago levels, CBRE said. A major recovery driver in these markets will be the return of corporate demand, which made up almost 50 percent of demand for upper tier properties in 2019.
"Given the short-term nature of travel restrictions we expect a relatively quick and strong bounce back for the lodging industry, with occupancy reaching pre-COVID-19 levels in 2023 and nominal RevPAR reaching 2019 levels by 2024-2026 for upper-tier hotels," CBRE said. "Safety concerns and corporate travel bans are primarily preventing the industry's recovery."