Lawson Hardwick: Maintaining Company Culture to Put Out Flames of Rapid-Fire Hiring
Lawson Hardwick is Vice President of Onboarding & Expansion with Churchill Mortgage Corp., Brentwood, Tenn. He oversees communication with new employees, departments and branch managers to ensure everyone receives the training needed from each area of the Churchill Mortgage Corp. He is a past board member of the Nashville Mortgage Bankers Association.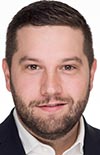 Without a doubt, 2020 has been an interesting year. While many industries have struggled, the mortgage industry has see steady business – even growing. In fact, we have experienced more business coming in at a faster pace than we have seen in the history of Churchill Mortgage and most likely the industry as a whole. The influx appeared quickly, with one of the most compressed increases in business – not to mention, at a time when the world was turned upside down.
Many mortgage companies found themselves in a position where it was essential to hire new employees as quickly as possible for seemingly every position within the organization. With operations teams working overtime, support was a necessity. Business was steadily mounting.
It is important to hire mindfully and focus on maintaining company culture during times of rapid expansion. Otherwise, it is easy to unknowlingly compromise culture. While drawing people in the door to help relieve the existing workload, some push through the hiring process too quickly and hire people who are not the right fit. People who do not embrace the company's mission can often conduct business in a way the company would not approve of.
This scenario negatively impacts company culture and causes more stress in the long run, rather than providing relief the initial stress of a high workload. While it may take longer initially, focusing efforts on finding talent that aligns with your culture will set the company up for success long-term.
It is crucial to vet prospects thoroughly. One way to know if a prospective hire fits your culture is taking the time to talk through who you are and what you believe as a company. Cast your vision clearly. At Churchill Mortgage, we are a value-driven organization, which we recognize is not for everyone. As we talk through our history, culture and belief structure, we are able to weed out quite a few potential hires. Instead of them not being a fit for us, we are not a fit for them. Starting conversations with prospective employees with such transparency helps to ensure we hire people who are working toward the same mission. We select our team members carefully and thoughtfully.
In times of rapid growth, companies must also dedicate resources to maintining company culture. Many companies have created a new position for an employee experience manager. This individual is responsible for ensuring new employees are onboarded and well positioned during their initial months at the company. The manager is also responsible for explaining and sharing the company's culture consistently, making sure new employees fully understand the mission and beliefs of the organization. This is crucial to help new employees feel like they are part of the family.
Right now, with employees working from home, connections with new hires can be even more difficult to achieve as they are made through technology. With this change, we want to further ensure our new hires know what the job entails and understand our company mission. This connection is vitally important. It can position a new employee to be more successful in their position.
While all companies want to take advantage of the busy season, it is important to balance growing the team and maintaining company culture. Even though rapidly hiring can help your company short term, it is wise to consider the long term negative effects it can cause. Make company culture a priority and feature it during the hiring process. Ensure your hiring process is strengthening your culture and mission, not weakening it. That is a vital key to successful growth.
(Views expressed in this article do not necessarily reflect policy of the Mortgage Bankers Association, nor do they connote an MBA endorsement of a specific company, product or service. MBA NewsLink welcomes your submissions. Inquiries can be sent to Mike Sorohan, editor, at msorohan@mba.org; or Michael Tucker, editorial manager, at mtucker@mba.org.)