Adapting to a Changing World; MBA LIVE: State of the Industry Online Conference Today
There is nothing quite like attending a Mortgage Bankers Association conference in person. But with the entire country still dealing with the effects of the coronavirus pandemic, that on-site experience—for now—has to give way to the safety of your home. And MBA says it's ready for you.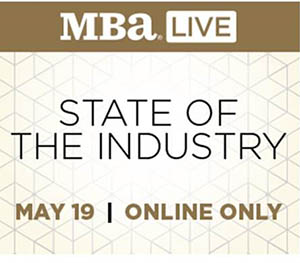 MBA's first virtual conference takes place today, May 19, from 1:00-5:00 p.m. ET. MBA Live: State of the Industry features presentations from key industry voices and MBA's team of economists and policy/advocacy experts. The conference is free to MBA members, but registration is required.
"Necessity is the mother of invention, and as the coronavirus began shutting down much of the country, we recognized the need to adapt," said Elaine Howard, MBA Vice President of Meetings.
But wait, there's more. MBA has revived two previously canceled conferences, also in virtual format: MBA Live – Legal Issues and Regulatory Compliance Conference, taking place May 26-27 (https://www.mba.org/store/events/conferences-and-meetings/mba-live-legal-issues-and-regulatory-compliance-conference?check_for_mini_site=Y); and MBA Live – Technology Solutions Conference, taking place June 1-2 (https://www.mba.org/store/events/conferences-and-meetings/mba-live-technology-solutions-conference?check_for_mini_site=Y)
Howard said the full impact of the pandemic took effect just as MBA's spring conference season was getting underway. As the national economy staggered and a number of states began taking precautionary measures, such as social distancing and closure of businesses and venues, she said MBA needed to take a new approach to how it runs meetings.
"Our conferences are among MBA's most popular member benefits," Howard said. "More than 16,000 people attend MBA conferences every year. The coronavirus made it impractical to hold physical meetings—but it was still important to present content from those meetings that our members value."
Dawn Williams, MBA Associate Vice President of Program Development, said MBA had already begun experimenting with virtual meetings on a smaller scale, by making some sessions at MBA conferences live online. Still, she said, the leap from one or two events to an entire half-day conference offered a unique challenge.
"The logistics are different, but our goals are the same," Williams said. "Our members come to MBA conferences to hear the latest updates from industry experts, to connect with peers from across the nation and to take actionable advice back to their own offices. We can still provide those opportunities in a virtual environment."
MBA Live: State of the Industry is open to all MBA members and should be of special interest to those in the single-family mortgage space, including those who usually attend the MBA Secondary and Capital Markets Conference, National Advocacy Conference, State and Local Workshop, Legal Issues and Regulatory Compliance Conference and Technology Solutions Conference, all of which were canceled this spring because of the coronavirus.
MBA Live: State of the Industry is a virtual experience that allows participants to connect with industry leaders in a broadcast format. The show will include speakers delivering on-camera remarks, interviews and panel discussions. Topics will include policy updates, the economic outlook and an analysis of the political landscape
MBA Live: State of the Industry features presentations from:
–MBA President & CEO Robert Broeksmit, CMB
–Federal Housing Finance Agency Director Mark Calabria
–HUD Deputy Secretary Brian Montgomery
–Sen. Kyrsten Sinema, D-Ariz., a key member of the Senate Banking Committee
–Bob Woodward, two-time Pulitzer Prize-winning journalist and Associate Editor of the Washington Post
–MBA Chief Economist Mike Fratantoni and MBA economists Marina Walsh and Joel Kan
Registrants can live-stream the event, which takes place from 1:00-5:00 p.m. ET, or watch the recording on demand after the event. There is also opportunity for live Q&A with select speakers.
Howard noted while MBA Education has already made the transition, holding most of its courses online, the State of the Industry conference represents an ambitious effort by MBA Meetings—and a possible blueprint going forward.
"This may very well be the future of MBA conferences," Howard said. "We will always have physical events that our members love to attend, but this might also be the way for MBA to attract even more participants, who might not be able to attend a conference in person but who still want the benefits of our programs."
To register, click https://www.mba.org/store/events/conferences-and-meetings/mba-live-state-of-the-industry.
For more information, click https://www.mba.org/conferences-and-education/event-mini-sites/state-of-the-industry?utm_source=Website&utm_medium=HP%20Carousel&utm_campaign=SOTI.