Whitepaper Examines COVID-19 Challenges, Future of Mortgage Industry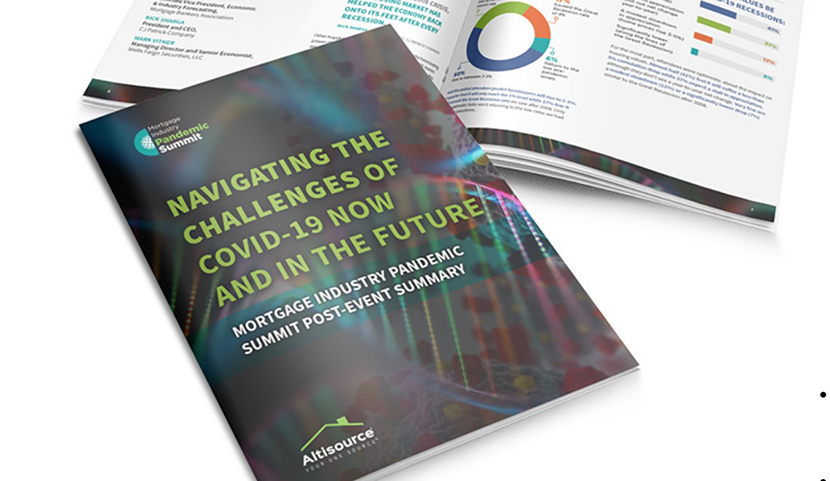 Altisource, Luxembourg, recently hosted a Mortgage Industry Pandemic Summit, featuring six sessions and 28 speakers, to discuss the major challenges facing the industry as well as possible solutions. Now, it has published a whitepaper summarizing the summit's key ideas, best practices, guiding principles and analyst advice, as well as results and analysis of more than 20 poll questions.
The paper, Navigating the Challenges of COVID-19 Now and in the Future, is available at
https://pages.altisource.com/200604-LP-MBA-COVID-19-Summit-Whitepaper.html.
"We live in a uniquely different world compared to just a few months ago," the paper noted. "Health concerns, travel restrictions, shelter-at-home mandates and other factors have severely limited the ability of businesses to provide services in nearly every industry, including mortgage and real estate."
Mortgage companies began scrambling to operationalize in a rapidly evolving and unexpected environment that no one was fully prepared for, the paper said. "As with the 2008 housing crisis, our industry is so tightly interconnected that it didn't take long for a domino effect to ripple throughout the community and impact every corner of it. Due to the current crisis, we are now looking at a slew of issues threating our industry and the economy with potentially long-lasting repercussions as well as a growing uncertainty about how to handle them."
Key challenges facing the industry:
–Historic unemployment claims, which will likely lead to a significant uptick in mortgage delinquencies and foreclosures down the road;
–A drop in housing sales and origination applications, which will likely be perpetuated by social distancing requirements that prevent realtors from showing homes;
–Low interest rates that, even with the large current spread, might spark an increase in refinance requests that would overwhelm some short-staffed originators;
–Federal borrower assistance programs that are providing temporary aid but are impacting cash flow and day-to-day operations for servicers; and
–A total government reevaluation of how the serving industry is managing its loan portfolio
Altisource CEO Bill Shepro outlined three takeways of the impact COVID-19 has had on the industry so far and what long-term effects to expect:
–There is no amount of preparation that any of us could have taken to be fully equipped to handle the challenges of COVID-19 and the governmental and regulatory response to it. In addition to the health impact, we are facing a market and economy like we have never encountered.
–The industry will continue to be impacted by historically low interest rates, massive origination demands, record unemployment claims as well as margin calls and liquidity issues.
–The government has initiated unprecedented borrower assistance programs. The forbearance program and foreclosure moratoriums are anticipated to massively increase the costs of servicer advances, and government actions are likely far from over.
"Unlike the 2008 crisis where we knew the level of risk and who was affected so we could determine the best course of action, the pandemic is entirely different," Shepro said. "We have no idea where it's heading or how it will ultimately affect us, which makes it more difficult to formulate a plan."