(#MBALive) Bob Broeksmit, CMB: 'Great Challenge, Great Change'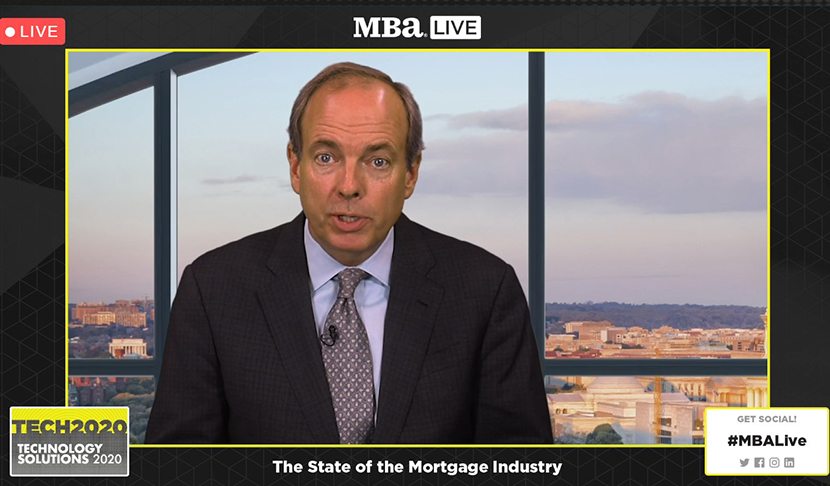 (Prepared remarks by Mortgage Bankers Association President & CEO Robert Broeksmit, CMB, at today's MBA Live: Tech Solutions Conference.)
Thank you to all the MBA members who are joining us live. It was a tough decision to cancel our Technology Solutions Conference earlier this year. Of course, it was the right call, given the seriousness of the coronavirus pandemic.
The last few months have certainly seen a lot of disruption. Yet MBA's commitment to serving you is unchanged. This virtual conference is a sign of that commitment. So are the actions we have taken on your behalf since this crisis started.
Today I'll discuss some of what we're doing and what's coming down the pike. I also have a big announcement to make. First, however, I'd like to say a few words about what's happening in our industry, our economy, and our society as a whole.
Five months ago, on January 1st, none of us knew what we were in for. The industry was flying high. The economy was booming. Homeownership rates were rising, interest rates were falling, and optimism was soaring. If you had told me or anyone else that we would soon face a crisis that rivaled the Great Recession, no one would have believed it.
And yet here we are.
In just a few short months, record numbers of Americans have lost their jobs. Millions are unable to make their monthly mortgage payments. Forbearance rates have risen from close to zero to over 8 percent. At the same time, purchase applications fell, as people put off buying new homes. With so many county courthouses closed, difficulties obtaining title and legal paperwork have made it harder to close.
Everywhere you look, there are enormous difficulties. Yet the story of the past few months isn't just one of pain. As strange as it may seem, it's also one of progress and transformation — especially on the technology front. Out of great challenge, you have driven great change.
Your companies have found numerous ways to adapt to the current crisis.
With many of your teams forced to work from home, you have rapidly deployed solutions to foster collaboration and continue your good work.
With in-person client meetings basically forbidden, you have implemented new systems to facilitate conversations with clients, homebuyers, business partners, and many others.
Across the board, you have mobilized your resources to drive sudden innovation. And thanks to your quick thinking and quick action, something remarkable has happened.
Far from floundering, the industry as a whole is thriving. The steps you have taken will enable you to not only come through this pandemic, but contribute to your success for years to come.
And for that matter, you're also contributing to America at the most vital moment. With so much of the economy in freefall, you have built a solid foundation that is saving the country from an even worse crisis. Your actions are an unsung stimulus that's at least as effective as any government program.
On behalf of the entire team at the Mortgage Bankers Association, I thank you for your leadership. We have never been more honored to represent you.
And we've never been more proud to fight for you. While you have been innovating, we have been advocating. Around the clock.
We've been pushing for policymakers at every level to implement the technological changes that you need in the current environment. I'm pleased to report that we have made good progress in many areas.
The best example is the dramatic expansion of Remote Online Notarization.
In the era of social distancing, RON is essential to closing on a home and finalizing deals of all kinds. RON transactions are not only safer than in-person meetings, they are more efficient and cost-effective, too. So MBA has been working with state and federal officials to make RON a reality wherever possible.
Our efforts have borne great fruit. At the start of this year, only 24 states had laws explicitly allowing RON. Today, with MBA's advocacy, GSEs are buying RON loans from 46 states. Our team was heavily involved in making this happen.
To help your companies make the most of this rapid expansion, and to help you get a sense of where things stand in different states, we have set up a RON Resource Center on our website. You can find it at mba.org. MISMO has also created a Digital Resource Center with information on the RON standards, vendors that provide RON services, and state emergency legislative and executive orders.
As we speak, our team is working with state lawmakers and the GSEs to further expand RON. We're also advocating for all changes to be made permanent. But we also know that a nationwide system makes the most sense, which is why MBA is pushing this issue in the halls of Congress.
We strongly support the SECURE Act, a bipartisan bill in both the House and Senate. It would create a nationwide framework for RON, and a growing number of lawmakers are getting behind it. We're now talking with congressional leadership about attaching the bill to the next economic relief package. There has never been a better time to get this passed, and MBA will work tirelessly to make that happen.
We're also working hard to maximize the use of eNotes. Much like with RON, social distancing has made the old system of personally signed promissory notes unworkable. The solution is to make them electronic and tamper sealed.
Most of your companies are moving in that direction, and to speed up that process, MBA has been working on many fronts. With our support, the GSEs and MERS have moved to streamline requirements during the pandemic. And MBA helped persuade Ginnie Mae to permit the issuance of eNotes for government loans.
These are real victories that have enabled your companies to continue your good work during these difficult times.
Whatever the issue, we will continue to advocate for the policy changes you need. But not everything requires government action, and within the industry, there are steps that we can take to strengthen our technology platforms and services.
Which leads me to the big announcement I mentioned earlier.
As you all know, MISMO is one of the most important tools in mortgage finance. It provides the "language of lending" and a common platform to exchange information. Over more than 20 years of work, MISMO standards have lowered the cost of collaboration between companies, the GSEs, and government agencies. Its benefits are many and tangible.
MISMO's importance has grown, especially in terms of finding technology solutions.
Last year, MBA announced a $2 million investment to support the rapid development of key digital standards. This allowed MISMO to embark on a number of new projects, including one establishing the Industry Loan Application Dataset, or iLAD, which provides a standard way of exchanging information included in both the new Uniform Residential Loan Application and the GSEs' automated underwriting systems.
Your response to MISMO's actions has been overwhelmingly positive. As a result, we have heard growing calls for MISMO to do more, and do it more quickly. The coronavirus pandemic has further clarified the need for action.
Strengthening MISMO requires giving it a dedicated source of funding, something it has never had. After weighing the options and discussing this issue with our members, the boards of directors for MBA, MERS, and MISMO have all voted in favor of a simple solution.
Starting on July 1, every new loan registered on the MERS system will carry a 75-cent administrative fee. This fee will then be given to MISMO to enhance its work.
This is a low-cost solution that will have high-impact results. It will enable MISMO to pursue multiple tech innovations simultaneously, which has historically been impossible. It will also allow the hiring of more professional staff to accelerate the delivery of cutting-edge products to the industry.
On the whole, this 75-cent fee will empower MISMO to further reduce friction between firms, lower costs for your companies, and increase the efficiency and excellence of the entire industry. We view it as a win-win, and we are confident you will see its benefits in the very near future.
As we prepare to roll out this new fee, I urge you to contact MBA with any questions or concerns you may have. The same is true for any of the issues I have discussed today, and others that I didn't mention. Whatever the topic, MBA is here for you, with answers and assistance.
Beyond our virtual conferences, I encourage you to participate in our regular calls and webinars and make use of our residential COVID-19 community page. Available at mba.org, this resource provides you with a forum to discuss challenges and solutions, receive policy updates, and correspond directly with MBA experts. Our team is working around-the-clock right now, and your input is vital.
Like all of you, I hope the coronavirus pandemic passes soon. No matter when that happens, you can rest assured that the Mortgage Bankers Association will continue to advocate for you in the halls of government, and give you the resources and support you deserve in this difficult period. MBA's work is never more important than right now, when things are toughest.
We're fighting for you because we know how much you matter. You're indispensable to the country's economy. You're the cornerstone of communities large and small. And when this crisis is behind us, and the recovery truly starts, I know one thing will be true. Your companies will be at the forefront. And America will be stronger for the work you do and the transformation you are driving even now.
Thank you again for joining us. And thanks for being an MBA member.