Clint Salisbury: For eClosing Success, Fine Tune Implementation
Clint Salisbury is Regional Manager with IDS, Salt Lake City, Utah. He joined IDS in 2008; previously he served as an Associate Attorney with law firms Christensen & Jensen; and Berman, Tomsic & Savage.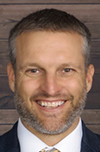 Our industry's reliance on technology is deepening every day as never-before-experienced demands emerge. For example, in a world that demands distance, the ability to perform an eClosing has evolved from nice-to-have to "essential worker" status. Lenders entering this uncharted territory may find setting internal and external eClosing protocols daunting. Whether you adopt a hybrid process or go fully digital, there are best practices consistent for each option that can ensure your successful eClosing implementation.
Lean on Your Vendor
At the outset, lenders should assess and leverage their vendor's capabilities – leaning heavily on carefully selected experts makes common sense. Depending on your location (state) and previous tech investments, your eClosing provider should help you decide between the hybrid or full eClosing model. Not every situation is the same, so existing digital processes and borrower demographic may inform your optimal starting point.
Testing, Testing, 1, 2, 3
Once lenders begin their eClose implementation, it's important to thoroughly test. Run as many common loan scenarios as possible to ensure a smooth experience for all parties once the eClose solution is live. This becomes especially important when testing custom fields, signatures and documents, which may need data mapping to work seamlessly.
Streamline with Document Mapping
A major benefit of eClosing is streamlining the process with document mapping. Often overlooked, document mapping allows lenders to set standards governing which documents are sent early to the borrower and which documents are sent to the closing agent. The assignment of documents to the correct signers is a critical step, ensuring that the loan officer, borrower and closing agent each receive all necessary closing documents. Intelligent eClosing solutions not only offer document mapping, but also mapping process support since many loan file documents are standard.
Document mapping also allows for document previewing, which helps solidify closings by ensuring that borrowers have the chance to review closing documents before the closing event. Borrowers can also eSign all documents that do not require notarization and/or wet signatures to further streamline the process. As an added benefit to streamlining the closing event, closing agents can increase their own productivity, executing more closings per day.
Settlement Agent Collaboration
Once tested and implemented, and after executing document mapping, the next step toward an eClosing is to confirm that the settlement agent is aware of and comfortable with the eClosing process and its responsibilities. Since lenders work with multiple settlement agents, this will be a common conversation in the beginning. Luckily, many agents will likely have experience executing a hybrid or full eClosing ceremony, and the key preparation becomes ensuring the agent is familiar with the lender's signing software of choice.
Much like a standard closing, an eClosing utilizes four document actions: none, acknowledge, click sign and ink sign. Settlement agents need to know how to accomplish each document action digitally, as well as which action each document in the closing package requires from each party involved. Closing agents also need to be briefed on procedures for answering any last-minute questions from the borrower and what to do when there is incorrect information in the documents, such as a misspelled name. Fortunately for closing agents, none of this is a big departure from wet closings.
Make it Easy to Succeed
Offering settlement agents an easy-to-use, full-service platform will help make their jobs simpler and the closing process smoother. To help settlement agents prepare for the signing appointment, an eClosing platform must give early access to all of the documents with the borrower. This will make it easier for the settlement agent to answer borrower questions. The platform must also offer settlement agents the ability to view signing progress so they can anticipate borrower needs or doubts and increase chances of a smooth closing.
Additionally, settlement agents should be afforded the ability to create and/or upload their own acknowledgement, eSign and ink sign documents. Settlement agents should also be able to upload wet signed documents after the wet sign event. A rarely acknowledged function of a good eClosing platform is the settlement agent's ability to print documents. When necessary, a settlement agent should be able to print wet sign documents prior to the note date so as to further streamline the eClosing process.
Implementation Supports Adoption
The technology adoption challenge is well documented. Although eClosing is viewed by many as the final frontier of the digital mortgage, it may be seen by some as an unwelcome advancement being forced on them. By taking these steps to fine tune the eClose implementation process, lenders can help ease the burden of adoption and transition for their employees, partners and borrowers.
(Views expressed in this article do not necessarily reflect policy of the Mortgage Bankers Association, nor do they connote an MBA endorsement of a specific company, product or service. MBA NewsLink welcomes your submissions. Inquiries can be sent to Mike Sorohan, editor, at msorohan@mba.org; or Michael Tucker, editorial manager, at mtucker@mba.org.)