Chris Lewis: 3 Steps You Should Take Now to Get Ready for RON
Chris Lewis is Director of Enterprise Solutions with DocMagic, Torrance, Calif. He partners with the largest banks in the industry to provide tactical strategies for increasing operational efficiency and expanding digital mortgage utilization.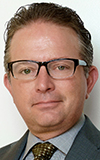 Lewis started in the mail room at Fidelity National Financial in 1993 and rose up through the ranks during his 20 years with the organization. He held a wide variety of roles with Fidelity, starting in title insurance where he eventually became COO over a large nationwide title operation before migrating to the position of Chief Data Administrator. He also held key roles in several spin-off companies, including Fidelity Information Services, Loan Portfolio Services and Black Knight. He also served as Executive Director for JP Morgan Chase.
When COVID-19 first struck in March, social distancing became paramount and states scrambled to allow some form of notarization that would not require in-person contact.
The wave of action—many were temporary orders— wasn't driven by the mortgage industry. It was focused on allowing people to conduct wills and last testaments— potentially from a hospital bed. The temporary decrees included options such as allowing signers to execute documents, and notaries to witness them and countersign, via live video apps such as FaceTime or Skype. The orders were a strong response to mitigate the clear issues related to the traditional notary ceremony that requires notaries to "be in the presence" of signers.
On a less severe scale, mortgage originators were faced with similar issues; they questioned how they could close a loan without social contact while consumers of mortgage products wondered why they had to leave the safety of their homes to complete their purchases. This led to a tremendous push to advance a remote online notarization closing, a completely paperless process where a consumer and the notary can close a loan virtually, with no need to interact in person.
Many of the industry's efficiency experts have long argued that a digital mortgage can save all parties time and money. In the past, however, there were too many downstream issues that blocked the process from full-scale adoption. But with shelter in place, safer at home and social distancing all coming into play, the pandemic has led to a renewed push to get a completely digital mortgage as the new way to close all your loans. This has forced loan originators to lead the digital charge to keep the process moving. As more states make RON technology a legal option, mortgage lenders embarked on serious efforts to implement the technology, or at least began frantically asking what they need to do to implement it.
Realistically, many lenders haven't started on the path to digital lending and find themselves playing catch-up due to the current situation. For those that are behind, trying to move from a primarily paper process to a completely paperless workflow that includes RON is a major challenge. Additionally, there are still industry impediments that preclude full-scale execution of the RON process. Many of the new RON laws are temporary. Risk-averse underwriters are reluctant to take a chance on the practice. Many county recorders still don't accept electronic documents. While COVID-19 has forced a lot of change in a short time and the landscape to execute RON closings has expanded significantly, not every stakeholder is on board yet.
Right now, many lenders couldn't complete every loan using only RON technology. But with that said, here is a suggested tactical approach that can give your organization an efficient process that you can apply to every loan every time, whether you're a large lender with highly structured processes or a smaller lender that can be more nimble. At a bare minimum, these three steps will put you in position to do a RON closing wherever it's currently allowed—and eventually all over the country.
Step 1: Implement a Hybrid Closing and Cut Out as Much Paper as Possible
Going fully digital can be a daunting task, and many segments in the industry still rely on paper more. After all, no investor has ever turned down a note because it was paper; in fact, in order to complete a closing and sell the note to an investor, some lenders are required to have two document classifications be papered out: the note, and anything requiring recordation and notarization.
But there is no reason that any other document in the loan package should still be papered out. Everything from the initial disclosure to the closing package should be electronic (i.e., e-enabled documents), with the ability to be eDelivered and eSigned. Especially at a time when social distancing is still paramount.
Since the start of the pandemic, at least 60% of title and settlement agencies started offering drive-up closings as a safety measure, according to an American Land Title Association survey. That means a growing number of borrowers are conducting closing ceremonies in parking lots, sometimes from their cars, to avoid being in the same room as other people.
If this is the new normal, then it's necessary to trim the fat. Switching the majority of documents from paper to digital cuts a massive document package to one that's a fraction of that size. It reduces a prolonged, drawn-out ceremony to a matter of minutes. And it lessens the amount of time the borrower, settlement agent, and notary have to spend in each other's presence. Additionally, while adopting these technologies is a necessary response to social distancing guidelines, doing so is also simply a smart and efficient business strategy for the future.
At a minimum, lenders should begin doing hybrid closings—immediately. This step is easily scalable and can be implemented in a short amount of time. Even if you can't go 100% digital today, this step is an easy one that puts you on the path toward a fully electronic closing.
Step 2: Set Up an eVault and Get Started with eNotes
eNotes, the electronic equivalent of a paper promissory note, have reached a tipping point. In the first half of 2020, I've personally seen more eVault implementation and eNote generation than in the previous three years combined. The transition to eNotes isn't happening, it's happened; now it's just a matter of waiting for the remaining stakeholders to come on board.
eNotes are rightfully popular for a variety of reasons. Paper notes are expensive to transport and maintain in a custodian vault, as the original note must be protected at all costs; a copy has no value. eNotes, however, have several built-in advantages:
• Since there is no original copy, they're impossible to lose or damage.
• eNotes can be transferred and eDelivered between MERS® members in mere seconds.
• They're protected by a tamper-evident seal, and the MERS® eRegistry stores each eNote's hash, providing a "fingerprint" that can be verified.
Major government-sponsored enterprises have been on board and accepting eNotes for several years now, while additional federal organizations and major investors are coming online in 2020.
To store eNotes, you should work with a technology integration team to set up an eVault, a secure repository where lenders can access, manage, and store electronic records related to a mortgage transaction. You'll want to find one that has a direct integration with the MERS® eRegistry. Some eClose providers can provide proprietary eVault technology transactionally, with the ability to set up an eVault for short- or long-term storage.
It's fair to say that 2020 has been the year of the eNote. In my opinion, by the end of the year, any investor that doesn't accept eNotes will be in the minority—and will lose business opportunities as a result.
Step 3: Start Implementing RON
Obviously, this step is optimal. But the fact is, if you've taken care of steps 1 and 2—steps that can be done at scale and on every loan—then you're already 95% of the way toward a 100% paperless eClosing.
Completing those initial steps gives early adopting lenders the flexibility to carry out process changes and implement RON eClosings in whichever jurisdictions will allow it, which includes about half the states. Larger lenders who prefer to wait until RON is available in every state and county will still put themselves in position to deploy it when they're ready.
Even if there wasn't a pandemic, RON eClosings would be on the rise; the process is more efficient, convenient, and secure than in-person notarization. Imagine if every time you bought something online from Amazon, someone had to check your driver's license before the transaction could go through; in-person notarization is a little like that. The main weakness of RON closings is that not every mortgage stakeholder is on board yet, but every week the number of jurisdictions, county recorders, and investors that accept it rises.
RON is here to stay. In the next year or two it should become the standard way a loan is closed. And if you do the first two steps, you've put yourself in a strong position to execute on step 3 and use RON when you're ready to.
(Views expressed in this article do not necessarily reflect policy of the Mortgage Bankers Association, nor do they connote an MBA endorsement of a specific company, product or service. MBA NewsLink welcomes your submissions. Inquiries can be sent to Mike Sorohan, editor, at msorohan@mba.org; or Michael Tucker, editorial manager, at mtucker@mba.org.)