Nancy Alley: eClosing Best Practices, Part II: Driving Adoption with Key Stakeholders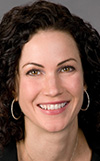 Nancy Alley is vice president of strategic planning for Provo, Utah-based Simplifile, an online service that connects lenders, settlement agents and counties. She can be reached at nancy.alley@simplifile.com.
(This is Part II of a series. Part I can be accessed at https://newslink.mba.org/mba-newslinks/2019/october/eclosing-best-practices-part-i-going-for-the-quick-e-wins-to-drive-internal-adoption/).
Part I of this series covered pursuing quick 'e' wins to drive internal adoption. The focus for Part II shifts to driving adoption with stakeholders outside of the executive/decision-making team.
There's more to adopting a digital mortgage strategy than simply using the necessary technologies and processes. Successful adoption also depends on getting clear and explicit buy-in from key stakeholders, such as borrowers, lender team members and settlement agents. By getting these crucial groups on board, lenders can then make the digital mortgage experience intuitive, consistent and repeatable.
Driving adoption and implementing a digital strategy requires a clear plan for all parties involved. Rolling out eClosings with a measured timeline will drive larger organizational wins, but when factoring non-executive-level stakeholders into this strategy, there are several things to consider:
• Selecting the right team members during the pre-planning and implementation phases is critical to drive success and adoption;
• The shift to eClosing requires a lender's commitment to making as many loans eClose as possible, and embracing both ink and hybrid closings;
• Being "e" provides value to all parties of the loan, and there is no reason (other than borrower opt-out) to not eClose;
• If eClosings are only a small part of a lender's closings, settlement agents and internal closers will not be motivated to learn the new process and will do whatever they can to revert to the paper process, thus undermining the effort;
• If eClose is defined as only fully-digital loans, less than 20% of loans will currently be eligible for eClose,
Of course, success with eClosings starts at home. Therefore, internal team members (loan officers, processors, etc.) need to understand the "why" behind the change and be clear on management expectations for adoptions in order to fully embrace it. Doing so will require lenders to provide more training and support during the adoption process, as well as a concerted effort to make all employees feel as if they are part of the process. One way to do this is to leverage internal subject matter experts, like the closing teams, to provide a seal of approval and become internal champions. By getting subject matter experts involved early, it creates ownership in the success of the overall project.
Other tips for driving lender team member adoption include:
• Automatically defaulting to a hybrid eClosing process when available if borrower e-consent is on file;
• Eliminating any additional clicks for lender users to deliver an eClose package;
• Updating closing instructions to reinforce how the borrower is expected to sign documents and specify instructions for eRecording where available;
• Creating and providing eClosing platform training and documentation/video support to users;
• Arming team members with information on where to refer agents requesting support; and
• Creating and monitoring success metrics by closer, loan officer, processor and settlement agent and providing those metrics to the executive sponsor for recognition and guidance for those that are (and those that are not) embracing change.
As the second half of the closing team, settlement agents also play a key role in digital mortgage adoption. Therefore, it is important to create a consistent closing package delivery method for all package types, whether they be ink-signed, fully digital or somewhere in between. This helps eliminate ambiguity because agents can more clearly understand the lenders' operational processes and seek training and support to better prepare for digital processes that are gaining steam, such as eNotarization.
Additional ways lenders can drive adoption with settlement agents include:
• Updating closing instructions to include the use of a single source for closing coordination, eClosing and eRecording, as well as the return of any ink-executed documents;
• Including direction for agents to contact borrowers the morning of closing to confirm all eSignable documents eSigned have been completed prior to arrival;
• Setting expectations with agents for the use of eClosings and the potential for reduced future business if agents voluntarily opt out; and
• Tracking settlement agent adoption and, when possible, providing report cards or recognition to encourage participation throughout each major step of the transaction.
Once lenders get the business side of the transaction on board with eClosings, it's time to turn the attention to driving borrower adoption. The first step in this process is setting the expectation with the borrower upfront that this loan is eligible for eClosing and what that will entail, which includes having borrowers consent to using eSignatures at the beginning of the transaction. This helps prevent gaps in understanding and delays in document delivery to the borrower. Once consent is in place, utilizing eDisclosures helps reinforce this expectation from the start of the transaction.
From here, the lender must provide a consistent experience for the borrower by requiring the same login credentials and maintaining similar steps and processes as much as possible throughout the transaction. Borrowers should also receive education and support from both their LO and settlement agent prior to delivery of any eDisclosures and eClosing documents.
For eMortgages to become commonplace, acceptance of change is a necessary precursor to success in transitioning to digital. By providing key stakeholders with as few roadblocks as possible, lenders can help to drive adoption. Additional external factors, such as agent and notary support, will be covered in the final installment of this series.
(Views expressed in this article do not necessarily reflect policy of the Mortgage Bankers Association, nor do they connote an MBA endorsement of a specific company, product or service. MBA NewsLink welcomes your submissions. Inquiries can be sent to Mike Sorohan, editor, at msorohan@mba.org; or Michael Tucker, editorial manager, at mtucker@mba.org.)