#MBAIMB20: Housing Finance Reform–What It Means for Independent Mortgage Banks
NEW ORLEANS—After years of debate, housing finance reform is no longer a far-off concept. And government housing agencies appear poised to be part of the transition.
FHA Commissioner Brian Montgomery, appearing here at the Mortgage Bankers Association's Independent Mortgage Bankers Conference, said one such step has been restructuring the False Claims Act. Over the past year, HUD has taken steps to make the False Claims Act more responsive to the realities of smaller banks.
"This has been a multi-agency initiative, and we didn't want to be the weak link in the chain," Montgomery said. "We have a representative body of seven agencies that are focused on improving the False Claims Act. We're very serious about going after bad guys, but we want to make sure the punishment fits the crime," he said. "We're trying to find equilibrium and balance."
Montgomery, who is awaiting Senate confirmation as HUD Deputy Secretary, said FHA continues to function irrespective of market conditions and irrespective of administrations. In 2011, the FHA capital ratio fell below its 2 percent congressional mandate. "Congress doesn't know everything about housing finance, but it does know that 1.4 percent is less than 2 percent," he quipped.
Montgomery said the agency "unpacked" FHA loans over the past three years as part of its analysis and reported the agency is in better shape to handle adverse conditions. "We want to be there in the good times, and the not-so-good times," he said. "We were very pleased that the capital ratio has been back above 2 percent for the past five years…we got through the worst economic downturn that any of us have seen; we're optimistic, but we have to remain vigilant."
Montgomery reiterated his assertion that FHA has no immediate plans to reduce FHA premiums. "We believe they are reasonable costs," he said. "Going forward, we'll have good discussions about this, but we have no plans right now to reduce premiums."
MBA Chair-Elect Susan Stewart, CEO of SWBC Mortgage, San Antonio, noted MBA has strongly supported improvements to FHA/HUD infrastructure, particularly technology; Montgomery said progress appears to be made, as Congress has appropriated some funding. "We still need about $80 or $90 million to completely upgrade our technology," he said. "We're looking to continue to make the complete transformation."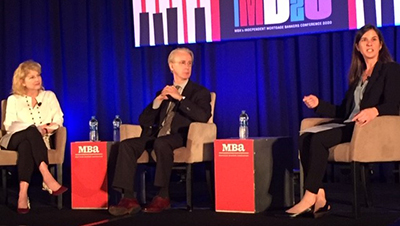 This is Montgomery's second stint with HUD; he says he's enjoyed the experience and looks forward to being confirmed as Deputy Secretary. "With mortgage rates low and the economy strong, we look forward to remaining competitive in the housing market," he said.
Michael Drayne, Acting Executive Vice President of Ginnie Mae, noted the agency has been in a transition period, with several Acting Presidents, including current Acting President Seth Appleton. But he said the agency remains focused.
"There have been personnel changes, but there is no agenda change," Drayne said. "Our Ginnie Mae 2020 plan has continued to move forward. It will modernize the agency's securitization platform and change how you access our securitization programs, as well as create a new avenue for online securitizations."
Drayne said Ginnie Mae is focusing strongly on stress-testing and risk management. "We do not have specific plans to impose stress testing, but we are interested in looking at particular situations," he said. "We have some lessons to learn; I think everyone has some lessons to learn and we believe this could be beneficial for the entire industry."
Another issue is resolution planning. "We've been thinking for a long time about what could happen if one of our larger servicers failed," Drayne said. "We think this is a worthwhile exercise."
Drayne said loan "churning" continues to be a major issue for Ginnie Mae, noting they have been taking policy actions against certain Ginnie Mae securitizers for the past two and a half years. "We are now evaluating the impact of these actions," he said. "But if you talk to some of the analysis firms, they don't think the problem is contained. In some folks' eyes, there is still too high a degree of issues in which these securitizations make no sense."
Lynn Fisher, Deputy Director of the Division of Research and Statistics with the Federal Housing Finance Agency (and former MBA economist), said FHFA Director Mark Calabria is focused on creating a "roadmap" to get Fannie Mae and Freddie Mac out of conservancy. "Getting them through the conservatorship; making sure they maintain market liquidity; and making sure FHFA continues to play an important role post-conservatorship are our main priorities right now," she said.
Fisher acknowledged "a ton of complexity" in implementing the FHFA roadmap. "We've been process-driven; now we need the capital," she said, noting FHFA last week signed a contract with Houlihan Lokey to devise a plan to move the government-sponsored enterprises (Fannie Mae and Freddie Mac) out of conservatorship.