Dealmaker: Merchants Capital Provides $22M Construction Loan
Merchants Capital, Carmel, Ind., provided $21.5 million in financing for a Minneapolis apartment community currently under construction, The Bessemer at Seward Commons.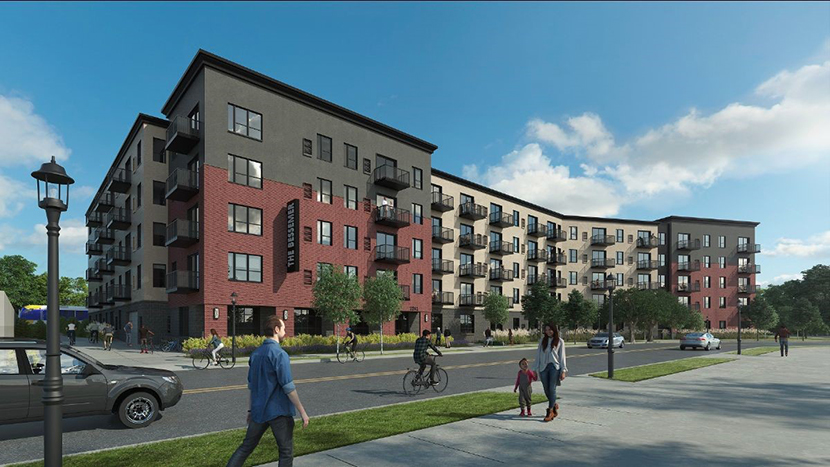 Bessemer Apartments LLC received the financing in partnership with co-developers Schafer Richardson, Seward Redesign and Noor Cos. Merchants Capital Executive Vice President Marsha Goff served as lead originator.
Located at 2200 Snelling Avenue, The Bessemer at Seward Commons will include 128 units adjacent to the Metro Blue Line and Hiawatha Bike Trail, one block from the Franklin Avenue Station.
The Bessemer represents the first non-income restricted housing development in this neighborhood in more than 40 years. It is part of a master-planned redevelopment called Seward Commons that includes four separate housing developments as well as 33,000 square feet of small business incubator space for local business and arts organizations. These small businesses are primarily owned by women and/or Black, Indigenous and people of color.
As part of a redevelopment area with Noor Cos., the project utilized Tax Increment Financing awarded by the City of Minneapolis, an estimated $5.4 million over a 26-year period. The development also received environmental clean-up funds from the Hennepin County Metropolitan Council and Minnesota Department of Employment and Economic Development as well as a Transit-Oriented Development loan from Hennepin County.
"The Bessemer had a complex structure with 10 different funding sources," said Amanda Janzen, Senior Development Manager with Schafer Richardson. "The Bessemer is also located in a census tract that is designated as an opportunity zone. We structured the deal to include two Qualified Opportunity Zone Funds (Catalyst Opportunity Funds and Schafer Richardson Opportunity Zone Fund), which resulted in the Bessemer being one of the first opportunity zone projects in the City of Minneapolis."