MBA 2020 Tech All-Star Jane Mason: Bringing Clarity to Chaos
Lesley Hall
On the website of Clarifire, a Software-as-a-Service company specializing in workflow automation in multiple industries, particularly mortgage servicing, the company declares its vision: "To transform chaos into clarity."
And that is a philosophy perfectly embodied by MBA 2020 Tech All-Star Jane Mason, CEO and founder of St. Petersburg, Fla.-based Clarifire.
"Our vision is to transform chaos into clarity because the servicing industry is chaotic by nature," Mason says. "That's certainly been the case over the past couple of months, as a trifecta of converging events has disrupted the servicing environment. Between ongoing natural-disaster relief efforts, the rising number of coronavirus cases, and decreasing interest rates driving refinancing demands, servicers have to juggle myriad requirements that could differ exponentially based on the event and the customer's situation.
"At Clarifire, our goal is to help servicers operate smoothly through the chaos by using automation to maintain control during any type of crisis or multiple crises. We believe a process is a process — it doesn't matter if a borrower needs relief from the impact of the coronavirus or simply wants to take advantage of lower interest rates. We offer servicers comfort knowing the same software and technology can be used to handle both scenarios. By applying automation and exception processing, our clients are able to achieve clarity with each next step in the process, whatever that process is."
According to Mason, customer self-service also plays a key role in an organization's success. "That's why we created our CLARIFIRE COMMUNITY, which provides an open line of communication between the borrower and the borrower's servicer or lender," she said.
Mason says she is an entrepreneur at heart. She got her start in business operations and worked at a large law firm, where she created a software platform for automating delivery of legal services. She founded eMASON Inc., dba Clarifire, and began working directly with mortgage clients in 2006, specializing in workflow automation. When the CLARIFIRE platform was introduced to the market, it so impressed Bank of America and Fannie Mae that they became the company's first customers.
"I have always had the drive to make things better, so process improvement has always been a huge part of my nature," Mason said. "Once I realized that processes are agnostic and that change is part of life, I applied my analytical talent toward creating technology to make things easier and better."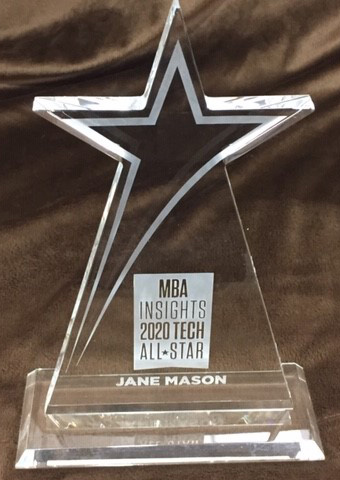 "I wasn't particularly tech-savvy before founding Clarifire, but I understood technology was the only way to accomplish my vision of providing organizations with an easier way of doing business," Mason added. "I sought technology expertise from my mentors — Jim Stikeleather, a former CIO and CTO at Dell; and Peter Fingar, an author and former technology executive and consultant. The teams we hired to build CLARIFIRE and those who keep it modern today have consistently excited us with new technology opportunities. I am by no means an expert in development, but my knowledge of what technology can do for us is vast."
The first word that comes to mind when considering the qualities that make Mason so effective in her role is "determination," said Christina Kreuger, a technical writer with Clarifire who has been with the company for nearly nine years. Before transitioning to her current position, she worked for Clarifire as client delivery manager and product delivery manager.
"Jane also has a unique ability to recognize and bring out the best in her employees," Kreuger said. "She finds a person's strengths and puts them in positions to shine, which collectively makes CLARIFIRE a better product for our clients."
That might explain why Clarifire has retained many long-time employees and attracts a diverse workforce.
"We're very proud of the loyalty and diversity of our team, and we've really tried to lead by example in this area. Our goal was to create an inclusive culture where each person feels a sense of ownership in our future. We believe in the concept that it takes a village to succeed. We're constantly seeking out new victories together, and we embrace our mistakes and learn from them," Mason said.
Kreuger adds, "Our workflow automation application is built around the concept of agility, because it needs to enable quick and nimble processes to help adapt to constant changes in the industry. As a company that provides servicers with that flexibility, we have to "practice what we preach" — and Jane reflects those practices in her management style. Jane gets an idea in her head, sees what needs to be done, and doesn't take 'no' for an answer. That determination is why Clarifire has achieved the level of success it has today."
The company delivers impressive results to its customers. CLARIFIRE clients report a 25 percent to 35 percent lift in productivity across departments, a 50 percent to 75 percent decrease in overall workflow cycle times, a reduction in data input time of about 68 percent, a decrease in loan-modification cycle times of 58 percent, an 80 percent elimination of manual tasks and a 25 percent decrease in cost per loan.
"The pace of technological change has accelerated over the past couple of years," Mason said. "In particular, we're seeing growing demand among servicers for self-service technology instead of having to invest in IT and hiring developers certified in PaaS [platform-as-a-service] solutions. This has led to increased adoption of a single, secure, end-to-end connected application that replaces point solutions while giving servicers the power to own their technology initiatives.
"There is still resistance to technological change, but the resistance is different now. Five years ago, servicers were embracing enterprise digital transformation initiatives, which were implemented incrementally at great expense. However, many of those investments resulted in unanticipated complexities and standalone applications that failed to create a seamless ecosystem. Today the industry is much more open and knowledgeable about the benefits of modern technology, but there is still a risk of overcomplicating your business and creating a morass of technology that can put a stranglehold on the bottom line."
"Jane keeps Clarifire on the forefront by adopting the latest and greatest in technology that makes sense for our products, our clients and ourselves," said Kreuger. "Clarifire is strategically positioned to help servicers now and in the future. While so much uncertainty is taking place this year, CLARIFIRE is flexible enough to handle the fallout from the present crisis and other disasters. Due to Jane's vision, the technology she designed, and the team she created at Clarifire, we'll be ready to assist servicers as they help borrowers navigate through their financial hardships, so they can face the current and future challenges in the months and years ahead with confidence."