MBA Urges Banking Committee Support for Brian Montgomery HUD Nomination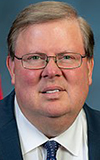 Ahead of a nomination hearing this morning, the Mortgage Bankers Association urged the Senate Banking Committee to approve Brian Montgomery's nomination as HUD Deputy Secretary.
In a Nov. 18 letter to Banking Committee Chairman Mike Crapo, R-Idaho, and Ranking Member Sherrod Brown, D-Ohio, MBA President and CEO Robert Broeksmit, CMB, urged the Committee to approve Montgomery's nomination as quickly as possible.
"Mr. Montgomery's service as FHA Commissioner, in two separate Administrations, as well as his recent tenure as Acting Deputy Secretary, provide him with a unique perspective on the issues facing the Department and our nation's housing and mortgage markets," Broeksmit wrote. "This experience will continue to serve him well as HUD's second highest-ranking official. I am confident that he will continue to bring a deep commitment and focus to HUD's programmatic areas most in need of his time and attention.
Montgomery, who currently serves as FHA Commissioner, was nominated by the Trump Administration last month to fill the Deputy Secretary slot after Pam Patenaude stepped down earlier this year.
"Mr. Montgomery has demonstrated throughout his career that he possesses the intellect to understand and respond appropriately to complex challenges," Broeksmit wrote. "We believe he will put those talents to good use, helping strengthen America's housing market, promoting the production of affordable rental housing and improving the fabric of communities nationwide."
The nomination hearing begins at 10:00 a.m. ET in 538 Dirksen Senate Office Building and can be accessed online at https://www.banking.senate.gov/hearings/11/07/2019/nomination-hearing.