Commercial Real Estate Sentiment Dips Toward Recession Zone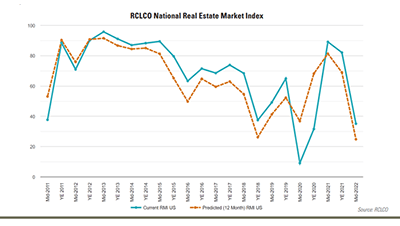 Commercial real estate executives' market sentiment has dropped dramatically, reported RCLCO, Washington, D.C.
The twice-annual RCLCO National Market Sentiment Index plunged to 35.1 on a 100-point scale at mid-year. An index reading below 30 indicates economic stress or recession.
"The last two years have been unprecedented in many ways, resulting in more significant swings in sentiment–both positive and negative–than we have seen since the survey inception," RCLCO said. The index experienced its largest decline in mid-2020 due to the COVID-19 pandemic, falling to 9.2. But in 2021 the index swung back dramatically as the nation reopened, vaccination rates rose and the economy and real estate markets moved toward recovery.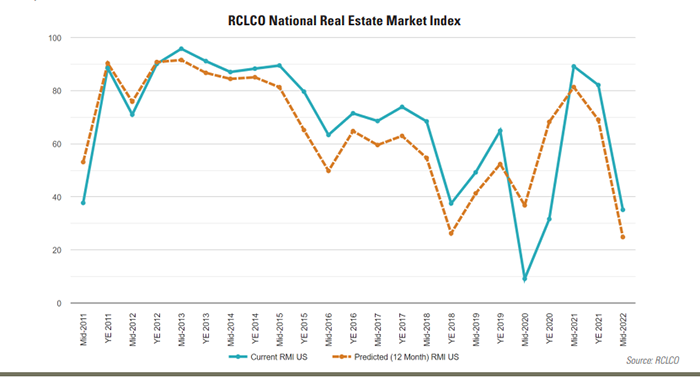 The recent drop in sentiment was spurred by geopolitical uncertainty, persistent high inflation and the risk of an impending economic recession, the report noted.
Respondents said they now believe commercial real estate market conditions will continue to deteriorate over the next 12 months, with the future index dropping to 24.9, well into market distress/recession territory. More than half of the survey respondents (58 percent) said they believe real estate conditions will get moderately or significantly worse in the next 12 months.
Nearly all respondents–92 percent–said they expect a recession within the next two years, with 54 percent believing it will occur in the next 12 months and 38 percent believing it will occur between 13 and 24 months from now.
Many executives surveyed said the hotel and industrial sectors remain in in the real estate cycle's stable phase, but RCLCO found wide variation in retail and office sector opinions. "Respondents were all over the map [discussing the retail and office sectors] from early downturn to early recovery, early stable and even late stable, perhaps reflecting the high level of uncertainty in the overall economy," the report said.
Looking ahead, most respondents said they expect interest rates and cap rates to rise. Respondents were split about inflation, with a mix of opinions whether it would decrease or increase in the coming year, but with more expecting elevated levels of inflation over the coming year by about a two-to-one margin.