Office Expansions Outpace Contractions in Large Markets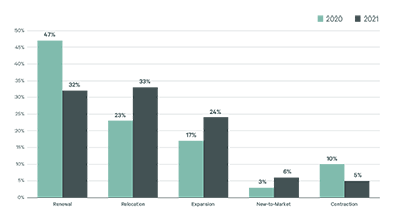 Chart credit: CBRE

Companies stopped standing still last year when it comes to long-term real estate decisions, reported CBRE, Dallas.
In its report, New Office Leasing Activity Rebounds in 2021, CBRE said more companies are expanding or relocating to new space within their markets rather than renewing expiring leases, indicating an improvement in their long-term confidence.
"Many companies are now are leasing more and better space to entice employees and new hires into the office," said Julie Whelan, CBRE Global Head of Occupier Research. "And many are expanding into new markets. While the ongoing impact of COVID-19 variants on activity remains hard to predict, office market resilience amid the Delta variant in 2021 provides reason for optimism."
The report covers the first three quarters of 2021, so it does not examine the effect of the Omicron variant on the office sector.
The shift to more relocations and expansions in major markets reflects a significant change from a year earlier, when they tended to focus on "status-quo lease renewals" and space contractions, CBRE said.
The report found office-leasing activity expansions in six primary markets–Manhattan, Boston, Chicago, Washington, D.C., Los Angeles and San Francisco–climbed to 24 percent by square footage last year from 17 percent in the final three quarters of 2020, after the pandemic struck. Likewise, relocations within the market (as opposed to lease renewals in the same space) increased to 33 percent from 23 percent. Conversely, space contractions declined to 5 percent from 10 percent.
The data for secondary markets tell a similar story. CBRE studied 13 secondary markets, including Atlanta, Dallas-Fort Worth, Philadelphia and Seattle. "Similar to the primary markets, these markets saw fewer in-place renewals and more space expansions in 2021 than in 2020," the report said. "A notable difference: secondary markets saw a larger increase in new-to-market activity than did primary markets."
Whelan said the uptick in new tenant activity in secondary markets indicates more companies are seeking to expand into less expensive markets with high quality labor pools.