CBRE: Investor Interest in Commercial Real Estate Surpasses 2019 Level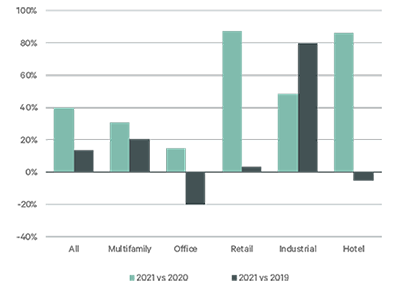 Chart Courtesy of CBRE
Investor interest in commercial real estate remains strong despite increased uncertainty due to rising COVID-19 infections and a reduction in the Federal Reserve's bond purchasing program, reported CBRE, Dallas.
The CBRE Deal Flow Indicator report said investor inquiries through the first week of December surpassed 2019's full-year total. "Robust investor interest in the second half of the year fueled this strength," the report said, noting inquiries were up 14 percent compared with the same period in 2019.
Investor activity picked up in even the most sectors, the report said. Retail inquiries surged nearly 90 percent since pandemic-year 2020 to a point slightly above 2019 levels. The hotel and office sectors also saw increases from 2020 but remained down by 5 percent and 20 percent, respectively, from 2019 levels.
CBRE reported multifamily and industrial inquiries retained their momentum from the past year with increases of 31 percent and 48 percent, respectively, compared with 2020.
"The pickup in investor inquiries coincides with an increase in investment transaction volume, which has also surpassed 2019 levels," the report said.
The average number of days on the market for property sale listings represented another positive note, CBRE said. "Property listings came off the market faster in the hotel, industrial, multifamily and office sectors than they did in the same period last year," the report said. But retail listings saw a slight increase in average days on the market.
Although improved compared with 2020, most sectors saw listings stay on the market longer than in the comparable pre-pandemic 2019 period, with retail listing longevity up by 22 percent, followed by hotel listings up 11 percent and office by 9 percent. Days on the market were nearly the same for multifamily compared with pre-pandemic levels and industrial had a 10 percent decrease, the report said.
CBRE noted it expects continued strong investment activity this year. It projects total investment volume will increase 5 to 10 percent over 2021 levels. "There are potential headwinds, such as a more hawkish Fed and a first-quarter surge in COVID cases due to the omicron variant," the report cautioned. But the firm said it expects the economy to grow by 4.6 percent in 2022 and said strong economic growth should fuel continued improvement in property market fundamentals, increasing investor confidence.