2021 Commercial Property Prices Increase Nearly 25%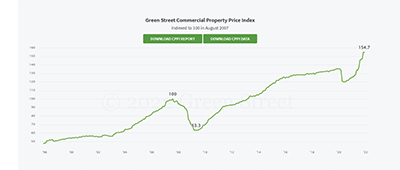 Green Street, Newport Beach, Calif., said its commercial property price index increased 24 percent in 2021 with robust price appreciation occurring in virtually every corner of the CRE market.
"Much like the U.S. economy, real estate fundamentals in 2021 turned out to be a lot better than most expected at the start of the year," said Peter Rothemund, Co-Head of Strategic Research at Green Street. "Add in low interest rates and private equity firms that have more money to put to work than ever before, and you get the kind of pop in pricing that we saw last year."
Rothemund noted 2022 will not likely match last year's pace, "but many of the forces driving prices higher remain in place," he said. "Property prices could post another double-digit gain this year."
Real Capital Analytics, New York, reported CRE sales and pricing both hit record levels in November 2021, driven largely by the apartment and industrial sectors. "Investment volume for the first 11 months of the year has already made 2021 a record year, even without deal activity in December–which is normally the busiest month," RCA said in its December RCA CPPI report. "The headline rate of U.S. price growth also touched a new high."
Deal volume through November already exceeded previous annual highs in both the apartment and industrial sectors, RCA noted. Both sectors also posted their fastest annual growth in prices in November. The apartment index rose 19.2 percent year-over-year, a record for the sector that was eclipsed only by the industrial index's 22.1 percent increase.
Overall, the RCA CPPI U.S. National All-Property Index accelerated to an 18.4 percent annual growth rate, another record, RCA reported.
The other major property types saw "mixed" activity through the first 11 months of 2021. "For the year so far, sales of suburban offices have surpassed the average pace seen before the pandemic, while CBD offices have lagged, with year-to-date volume just over half that seen pre-pandemic," RCA said. The report noted suburban office prices climbed 15.1 percent in November, while central business district office prices rose only 3.6 percent.
"Retail prices have rebounded from the losing streak seen for much of 2020 and into 2021," RCA said. "Deal volume in the retail sector for the year so far has been boosted by entity-level deals but still the pace of activity overall is lower than that seen before COVID-19 struck."