Office Pipeline Evolves Post-Pandemic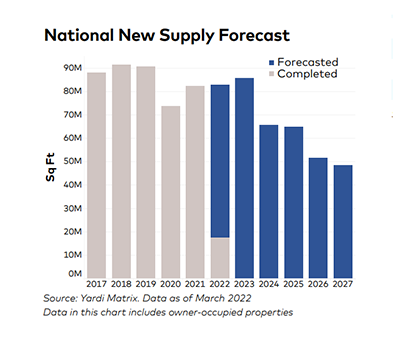 The shift to remote and hybrid work is shrinking the new office supply pipeline, but many developers believe the right project in the right location still makes sense, reported Yardi Matrix, Santa Barbara, Calif.
New office starts slowed significantly during the pandemic, from more than 86 million square feet in 2019 to 63.1 million square feet in 2021, "but they have not completely cratered, as many were predicting two years ago," Yardi said in its April National Office Report.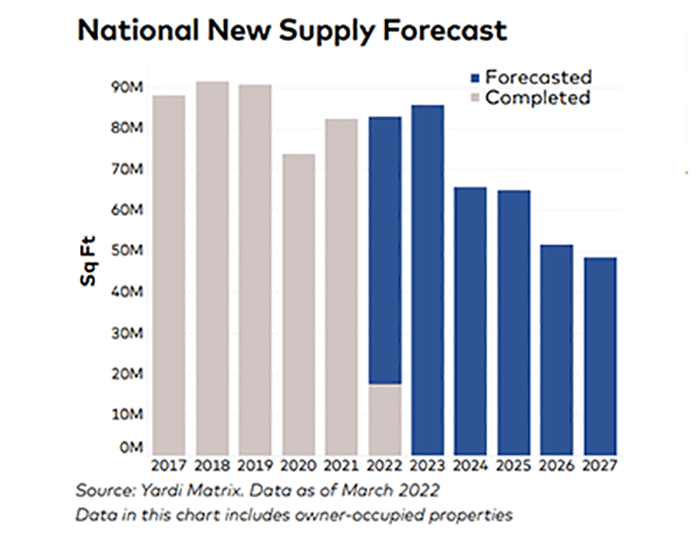 Yardi noted markets with strong domestic migration or life sciences clusters continue to attract new office development. It said six of the nine top markets for construction starts last year were life sciences hubs. "The Bay Area and San Francisco have been top markets despite domestic out-migration and languid employment growth," the report said. "With their life sciences clusters, the Brisbane and South San Francisco submarkets account for nearly half of all [office] stock under construction."
Two other life sciences hubs, Raleigh-Durham, N.C., and Boston, also saw significant office starts in 2021. "More than half of all properties under construction in Boston include at least some life science capacity," Yardi said.
Yardi reported more than 93 percent of all office properties currently under construction are rated Class A or A+, "so new office development is counting on a continued flight to high-quality spaces as a way for companies to retain and recruit workers. If this trend continues, then many owners of Class B and Class C buildings may feel the squeeze and look for conversion opportunities. We expect that those exploring conversions will be looking at life science, multifamily and, to a lesser extent, industrial."
Colliers International, Toronto, said most metro areas returned to their pre-pandemic GDP levels in 2021. "Without the pandemic, the total labor pool would likely have increased by four to five million employees, but instead contracted by a million workers," the firm said in its Top 50 U.S. Office Markets report. "While generous federal unemployment subsidies likely kept many lower hourly employees on the sideline before those benefits expired in September 2021, continued COVID-19 health concerns, childcare issues and an outsized portion of early retirements contributed to the shrinking labor force."
Colliers said technology-friendly markets will likely see growth this year. "Medium-sized tech-centric cities, such as Austin, Nashville and Salt Lake City should continue to lead growth, along with Florida markets," it said. "And the major tech markets on the West Coast, while challenged now, could start to rebound."