CRE Price Growth Starts Second Quarter Strong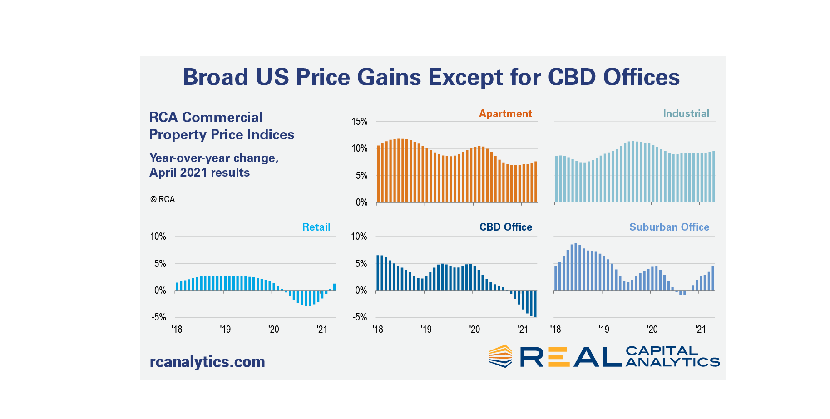 U.S. commercial property prices started the second quarter with healthy growth.
CoStar, Washington, D.C., said its index of higher-value trades and its index of the more numerous but lower-priced property sales typically seen in secondary and tertiary markets gained 1.4 percent in April.
"April marked the second consecutive monthly gain for both market types after declines to start the year," CoStar said in its monthly repeat-sales report.
CoStar noted the share of repeat-sales trades that were distressed remained low in April. "The continued low share of distressed sales demonstrates relatively healthy liquidity conditions," the report said.
Real Capital Analytics Senior Analyst Wyatt Avery said the headline U.S. property price growth rate accelerated in April as the industrial, apartment, retail and office indexes all posted positive annual returns for the first time since the pandemic began. The RCA U.S. National All-Property Index grew 8.4 percent in April over the last year, he said.
Only the central business district office sector weighed the growth rate down. The main office index grew 3.0 percent year-over-year due to suburban office price increases but CBD office prices sank 4.9 percent from a year ago. The industrial sector once again posted the largest increase, up 9.4 percent on the year, while the retail index grew 1.3 percent, Avery said. The apartment growth rate has inched up over the last few months to a 7.6 percent year-over-year pace in April.
"The industrial and apartment sectors posted the strongest activity in April relative to trends seen before the pandemic began," Avery said. "U.S. deal volume jumped in April compared to the slump a year ago at the onset of the pandemic."
Green Street, Newport Beach, Calif., said its index, which examines real estate investment trusts, increased 0.5 percent in April as industrial asset prices rose 5 percent last month; others remained mostly steady.
"Pricing varies, but some property types–industrial, self-storage and assets with high-credit tenants and long leases–are red hot right now and values are well above pre-pandemic levels," said Peter Rothemund, Managing Director at Green Street. "Pricing of other properties has not fully recovered, but interest rates are low, and the economy is heating up. It sure looks like we'll see more price increases."