Net-Lease Investment Approaches Pre-Pandemic Level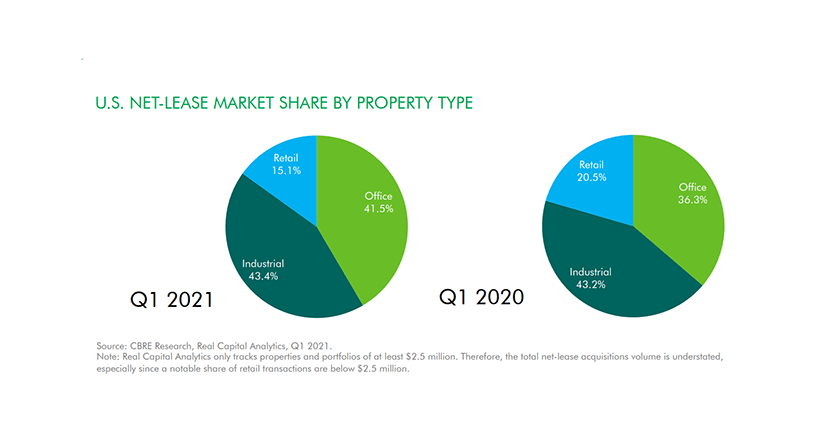 Investment in U.S. net-lease properties approached pre-pandemic levels in the first quarter, reported CBRE, Dallas.
The firm's U.S. Net-Lease Investment Report said "robust" institutional acquisition activity, increased interest in office assets as return-to-the-workplace plans gain momentum and resilient foreign investment currently drive the sector.
Net-lease investment activity comprising office, industrial and retail properties increased 10 percent from the pre-pandemic first-quarter 2019, the report said.
"Much like during the [Great Recession] trend we experienced over a decade ago, net-lease properties continue to attract interest during this downturn as investors seek long-term dependable cash flows," said Will Pike, Vice Chairman of Net Lease Properties for Capital Markets at CBRE. "Interest in the office sector is on the rise, with strong demand for mission-critical assets as COVID-19 guidance changes and employees begin to return to the workplace."
The office sector's share of total net-lease investment volume increased by more than 5 percentage points from a year ago to 41.5 percent, reaching its largest first-quarter volume on record at nearly $6 billion. The industrial sector once again attracted the most net-lease capital with a 43.4 percent share while the retail sector's share fell by 5.4 percentage points to 15.1 percent, CBRE said.
Institutional and equity funds represented the largest net-lease buyers in the quarter, increasing their acquisition activity by 40 percent year-over-year to $6.7 billion. Private investment in net-lease properties grew by 6.7 percent over the same period to $6.3 billion, CBRE reported. Real estate investment trust net-lease investment volume fell 44 percent year-over-year in to $1.4 billion.
As usual, large gateway markets garnered the most net-lease investment activity, led by Boston. But investors also targeted high-growth secondary and tertiary markets including Provo, Utah up 639 percent, Trenton, N.J. up 609 percent, Savannah, Ga. up 451.5 percent and Honolulu up 258.7 percent.
"The net-lease sector is attractive to investors because the long-term leases and credit-worthy tenants are considered safe attributes during an economic downturn," the report said, noting the net-lease share of total commercial real estate volume increased to 14.7 percent in 2020 during the COVID-19 pandemic from 13.5 percent for full-year 2019.