MBA Vice Chair Mark Jones Testifies on Capitol Hill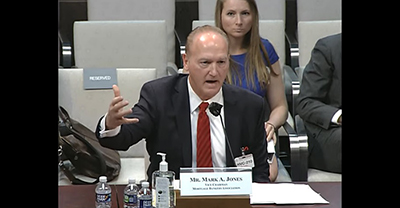 Mortgage Bankers Association Vice Chair Mark A. Jones testified Wednesday on behalf of MBA before the House VA Subcommittee on Economic Opportunity.
Jones is also CEO and Co-Founder of Amerifirst Home Mortgage, a privately held, independent residential mortgage lender based in Kalamazoo, Mich.
Jones said the Mortgage Bankers Association commends Rep. Mike Bost, R-Ill., for introducing H.R. 7735, the Improving the VA Home Loan Benefit Act of 2022. "VA home loans represent one of the most important benefits our nation's veterans earn through their selfless service to our country," he said.
H.R. 7735 would accelerate the process of updating VA's rules and program guidelines governing home appraisals and holds the potential to make veterans' home purchase offers more viable in the many competitive housing markets across the country, Jones told the subcommittee.
"Today, we all know how important the dream of homeownership can be for Americans in terms of accumulating wealth and maintaining stability within our nation's families and communities," Jones said. "The VA's home loan program plays a critical role increasing the availability–and affordability–of mortgage credit for service members, veterans, and their surviving spouses."
Jones noted MBA supports H.R. 7735, which targets three specific areas important to veterans and military families, including the clarification of:
1. When an appraisal is necessary;
2. How appraisals are to be conducted–and the process by which the VA approves valuations, and;
3. A review of who is eligible and licensed to conduct a VA appraisal.
The legislation would also require the VA to address several additional key areas for improvement, including when minimum property requirements, property waivers and increased use of technology and hybrid appraisals should be permitted.
"Lenders, appraisers, sellers, realtors and most importantly VA buyers will all benefit from this common-sense legislation that can help make housing markets more accessible and affordable to servicemembers," Jones said.
Click here for hearing details. Jones' full testimony is available here.