Report: Climate Change Poses Serious Threat to U.S. Real Estate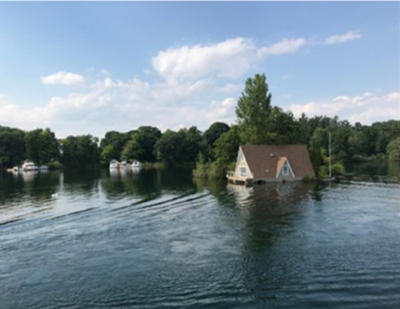 Home prices in areas most affected by climate change are increasing faster than the national median, reported Home Bay, St. Louis.
Median home sale prices have increased 167 percent in major metros within states that have had at least 50 Federal Emergency Management Agency disaster declarations since 2012, while the national median increase is only 113 percent, Home Bay said in Home-Buying & Climate Change: The Riskiest and Safest Places in 2022.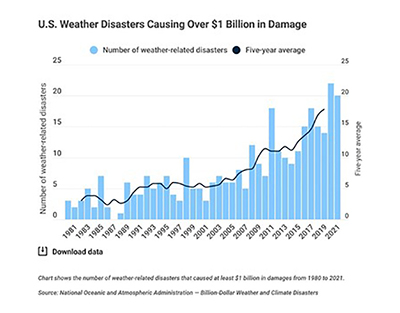 "Fueled by climate change, extreme natural disasters are increasingly wreaking havoc on American people and property," the report said. "Fires are burning larger. Hurricanes are hitting harder. Droughts are lasting longer."
The states FEMA ranks as most likely to have disasters that threaten buildings, people and agriculture–and therefore, pose the biggest risk to homeowners—include California, Texas, Florida, Louisiana and North Carolina.
Home Bay noted the states least at risk for climate change-induced weather events include Rhode Island, Vermont, Delaware, New Hampshire and Maine.
In addition to rising home prices, climate change affects other home costs such as insurance and energy, Home Bay said. The average U.S. temperature has increased from 51.6 to 53.7 degrees Fahrenheit since 1980, meaning homeowners now spend more on electricity to cool their houses.
The number of billion-dollar weather and climate disasters has increased more than five-fold across the U.S. since 1980, the report noted. Adjusted for inflation, the U.S. averaged 4.7 billion-dollar disasters annually from 1980 to 2007. Since 2008, the number of billion-dollar disasters has grown to 13.6 annually. In 2020 and 2021, that number increased to 21 per year and there have been 145 individual billion-dollar disasters in the U.S. since 2012 alone.
"Many of the states most threatened by these disasters contain some of the most in-demand metro areas for home buyers," the report said. "However, it's clear that Americans feel the benefits of living in these areas still outweigh the potential risks–at least for now."