MBA Chart of the Week: 2021 HMDA Respondents
A total of 4,195 companies reported lending activity under the Home Mortgage Disclosure Act in 2021, according to MBA's own analyses of the dataset. Company types are defined by primary regulator and balance sheet assets, with large depositories holding assets of $10 billion or more.
Large depositories have always been the smallest group of HMDA reporters, averaging 100-130 companies over the past five years and comprising no more than 3% of all reporters. In 2021, 125 large depositories made up 3.0% of all HMDA reporters – their highest share since 2008 (the first year MBA started tracking this data). Though small in number, large depositories hold the second-largest market share, originating 16.7% of all home purchase loans and 17.6% of all refinance loans in 2021. The large depositories picked up refinance share last year, but their purchase share fell again to the lowest on record. Additionally, both their refinance and purchase shares were a far cry from the 47.7% purchase and 52.1% refinance market shares they once held in 2008.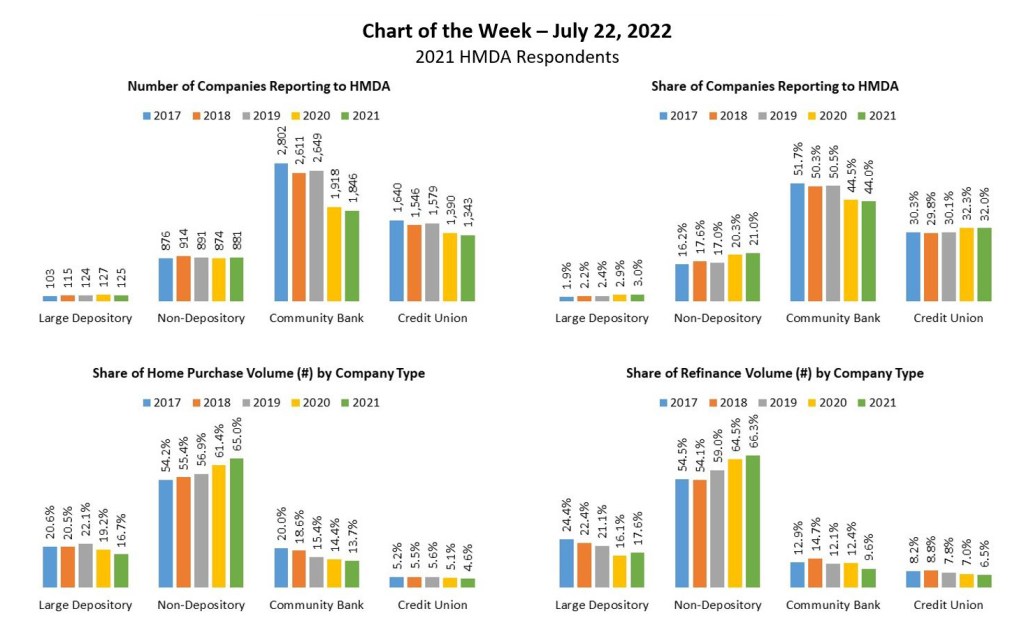 Community banks, in contrast, have always been the largest group of HMDA reporters. In 2021, the community banks were 1,846 strong and made up 44.0% of all HMDA reporters. However, we have seen a steady decline in the number of community banks over the past five-plus years, likely due to a combination of industry consolidation and changes to HMDA reporting thresholds. Community bank market share also fell to the lowest on record in 2021 – 13.7% of purchase loans and only 9.6% of refinance loans.
Credit unions saw a similar drop in number in 2021, reaching a low of 1,343 in 2021. However, given decreases in other company types' numbers, credit unions' share of HMDA reporters remained flat from 2020 at 32.0% – their second-highest share since 2008. In terms of volume, credit unions are the most "stable" group and have consistently originated 4-6% of purchase loans and 7-9% of refinance loans since 2008. That said, their 4.6% purchase share was a 9-year low, and their 6.5% refinance share was a 13-year low.
Non-depositories are a stable group in terms of number, but they have skyrocketed in terms of market share. 881 non-depositories, representing just over one-fifth (21.0%) of HMDA reporters, originated almost two-thirds of both purchase and refinance loans in 2021. Their share of the purchase market climbed for the 13th consecutive year, from 26.6% in 2008 to 65.0% in 2021. Unlike for purchases, non-depositories' growth in the refinance market has not been strictly upward; regardless, their 66.3% share in 2021 is more than three-times the 20.7% share they held in 2008.
MBA's HMDA data analyses are limited to the following: 1-4 unit, closed-end (or exempt), 1st lien loans originated through the retail/consumer direct, broker wholesale, or non-delegated correspondent channels. It excludes home improvement loans and loans with "other" or "not applicable" purposes.
Please visit MBA's HMDA webpage to view our suite of standard HMDA reports and explore custom reporting options. Our HMDA Residential Originations Databook (with 2021 data) is now on sale at a $100 discount until August 1st and our HMDA Executive Databook is FREE for MBA members.