CoreLogic: Hurricane Ida Leaves $27-40 Billion in Losses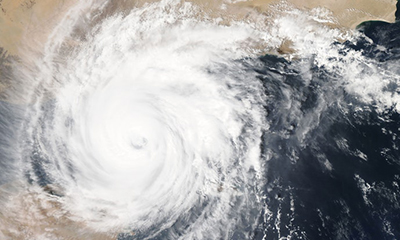 CoreLogic, Irvine, Calif., estimated residential and commercial wind, storm surge and inland flooding loss estimates for Hurricane Ida in Louisiana, Mississippi and Alabama at $27-$40 billion.
CoreLogic said total insured flood loss for residential and commercial properties in Louisiana, Mississippi and Alabama is estimated to be between $6 billion and $9 billion, which includes both storm surge and inland flooding. Uninsured flood loss for this area is estimated to be between $8 billion and $12 billion. Insured wind losses are an estimated additional $8 billion to $12 billion. More than 90% of the losses are estimated to be in Louisiana, primarily in the nine parishes in the New Orleans-Metairie-Hammond metropolitan area and in the Ascension, Lafourche, Livingston and Terrebonne parishes immediately to the west.
Hurricane Ida, the fourth hurricane and second major hurricane of 2021, rapidly intensified into a Category 4 hurricane before making landfall near Port Fourchon on August 29—the 16th anniversary of Hurricane Katrina. CoreLogic noted much of Louisiana's housing stock was spared from the worst of the initial landfall, as Port Fourchon is a remote area approximately 15 miles southwest of Grand Isle and is known for its significant transport of petroleum. In areas near Hurricane Ida's landfall, destructive winds exceeded 145 miles per hour.
Ida, downgraded to a tropical depression, raced quickly through the Tennessee Valley and the Mid-Atlantic/Northeast before moving off the Atlantic coast early this morning.
Tom Larsen, principal of insurance solutions with CoreLogic, said substantial damage to property from wind and flooding occurred in the days immediately following the storm.
"Hurricane Ida made landfall less than 40 miles away from where Hurricane Katrina made landfall, but the two storms had substantially different characteristics," Larsen said. "Even though Hurricane Ida was a higher wind-speed Category storm at landfall, Hurricane Katrina had a much larger wind field and had spent many hours as a Category 5 hurricane before weakening during its approach to landfall. It brought much higher storm surge than Hurricane Ida and flooded 80% of New Orleans in addition to devastating the Mississippi coast."
Larsen noted while only 40 to 50% of the flood damages from Hurricane Ida appear to be covered by insurance, "this is actually an improvement from the uninsured flood damages we saw from Hurricanes Harvey and Katrina. "The flood insurance gap is shrinking."
Larsen said with climate change affecting the ocean's temperatures, "we should expect to see more frequent and destructive tropical cyclone activity. Homeowners and regional public agency leaders should prepare for more resilient city infrastructure and financial protection from catastrophe."