MBA Letter Urges Senate Support of Julia Gordon Nomination as FHA Commissioner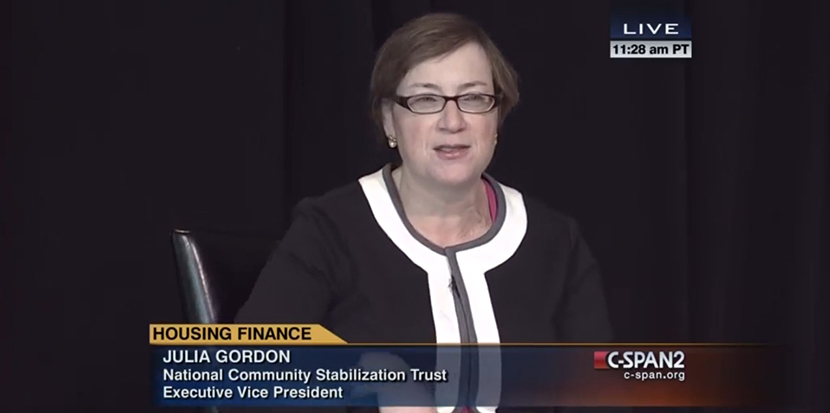 (Julia Gordon speaking at a 2015 Urban Institute event. Image courtesy C-SPAN.)
The Mortgage Bankers Association urged the Senate Banking Committee to quickly approve Julia Gordon's nomination as FHA Commissioner and forward her nomination for a full Senate vote.
In a July 1 letter to Banking Committee Chair Sherrod Brown, D-Ohio, and Ranking Member Pat Toomey, R-Pa., MBA President & CEO Robert Broeksmit, CMB said Gordon's experience will serve her well at FHA.
"Ms. Gordon is well known in the mortgage, affordable housing and community development sectors for her commitment to both affordable rental housing and sustainable homeownership," Broeksmit wrote. "Her broad-based knowledge will help FHA in its support of rental housing production and critical multifamily public-private partnerships."
President Biden nominated Gordon on June 24. She is currently president of the National Community Stabilization Trust, a nonprofit organization that supports neighborhood revitalization and affordable homeownership through rehabilitation of residential properties in underserved markets. In addition to managing NCST's programmatic work, she specializes in federal policy related to homeownership, community development and the nation's housing finance system.
Broeksmit said the incoming FHA Commissioner faces several critical management priorities, including enhancing efficiency and technology deployment, working to broaden the population of institutions engaged in FHA-insured lending, improving existing servicing policies, addressing delays of as much as six months in assigning underwriters to multifamily financings and ensuring the long-term financial stability of the FHA program.
"A successful FHA Commissioner will need an appreciation and understanding of the complex housing finance system and a commitment to data-driven policies that support FHA's countercyclical role in the market," Broeksmit said. "The FHA Commissioner will also need to have the ability to work with diverse stakeholders in the public and private sectors, ensuring that different viewpoints are heard and considered. Ms. Gordon has both the technical aptitude for this important role, as well as relationship skills needed to build consensus and facilitate collaboration."