#CREF2020: Multifamily Facing 'Significant Changes'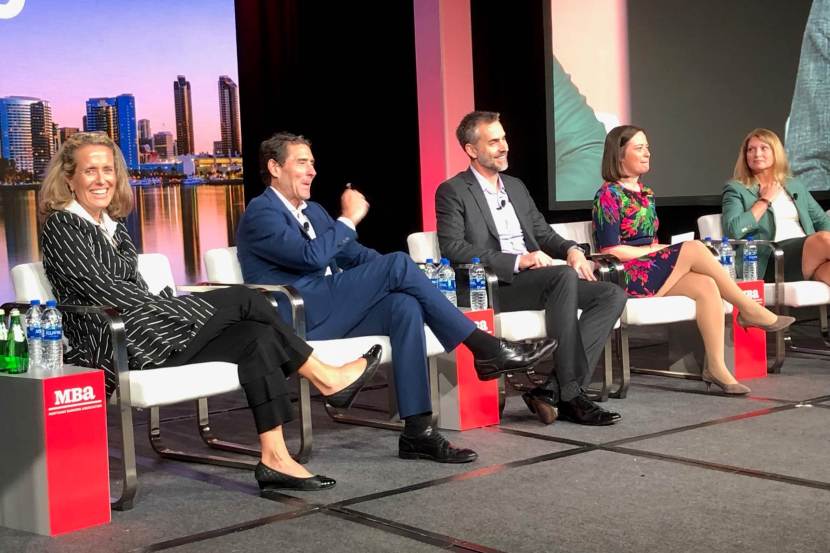 SAN DIEGO–Some call multifamily an Energizer Bunny that just keeps going. But the sector faces significant changes, including regulatory shifts and a new floating-rate index, analysts said here at the Mortgage Bankers Association's Commercial Real Estate Finance/Multifamily Housing Convention & Expo.
Last week, for example, the Federal Housing Finance Agency hired Houlihan Lokey Capital Inc., Los Angeles, as a financial advisor to help develop a "roadmap" to ending the conservatorship of Fannie Mae and Freddie Mac. FHFA said Houlihan Lokey will consider business and capital structures, market impacts and timing and available capital raising alternatives. "Hiring a financial advisor is a significant milestone toward ending the conservatorships of the enterprises," said FHFA Director Mark Calabria.
In addition, last month FHFA re-aligned its structure to prepare for the enterprises to leave conservatorship. Siobhan Kelly, FHFA Associate Director of the Office of Multifamily Analytics and Policy, told CREF attendees FHFA wants "to ensure Fannie Mae and Freddie Mac are operating in a safe and sound manner, that they are well positioned to exit conservatorship and that they are helping to foster a competitive, liquid, efficient and I think most importantly resilient multifamily market.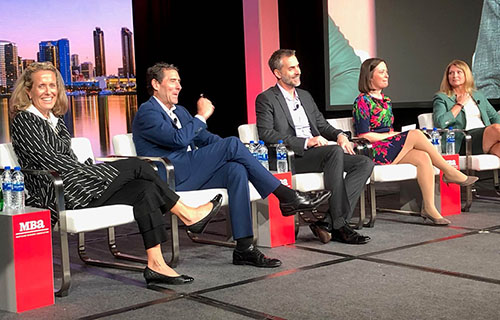 Freddie Mac Executive Vice President and Head of Multifamily Deborah Jenkins said her company is "aligned with" its regulator, "with our top priority being exiting conservatorship," she said. "We're making sure we are ready and prepared, retaining capital and able to attract investors when the time comes."
Jenkins said ending conservatorship is a "common goal" among the GSEs and their regulator. "It's everyone's number-one priority," she said.
Just 4 percent of audience members surveyed as to when the GSEs will leave conservatorship said the change will happen this year, compared to 9 percent who said next year. More than a quarter predicted the exit will happen in 2022, while 47 percent said they expect it to happen in 2024 or beyond.
Kelly noted FHFA restructured the GSEs' multifamily loan purchase cap last September, eliminating previous exclusions and increasing each enterprise's individual cap to $100 billion for the five quarters between fourth-quarter 2019 and fourth-quarter 2020. "By eliminating the exclusions we tried to close some loopholes," she said. "Director Calabria reaffirmed his commitment to the enterprises' charter by making sure there was a mandate that 37.5 percent of their business has to be in those mission-driven categories [including affordable housing and green/energy-efficient housing]."
Kelly also noted the last date Fannie Mae and Freddie Mac will accept multifamily loan applications indexed to the London Interbank Offered Rate will be Sept. 30 and both GSEs will cease acquiring multifamily LIBOR adjustable-rate mortgages by Dec. 31. LIBOR is used as the base rate for more than a trillion dollars of adjustable-rate commercial and multifamily mortgages and is potentially set to expire at the end of 2021. The New York Fed's Alternative Reference Rates Committee recommends financial institutions use the Secured Overnight Financing Rate as an alternative to LIBOR.
"Both enterprises anticipate they will be able to start purchasing floating-rate SOFR index-based loans by fourth-quarter 2020," Kelly said. "So from our perspective at FHFA we really see this as an important milestone for preparing for making sure the enterprises are operationally ready as we prepare for LIBOR to go away."