HUD, Justice Department Reach Agreement on False Claims Act Violations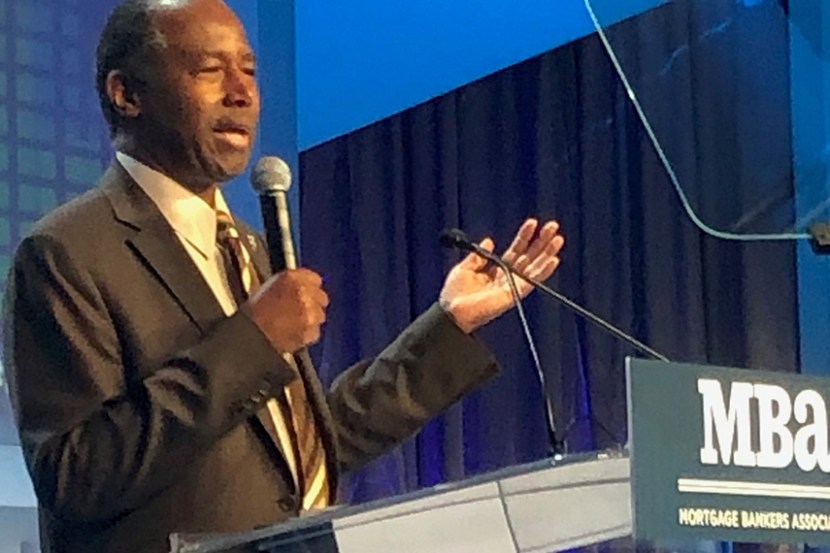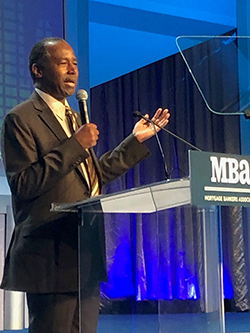 AUSTIN, TEXAS–HUD and the Department of Justice yesterday signed a memorandum of understanding outlining "prudent" guidance for False Claims Act violations, a move that analysts said could help eliminate uncertainty in FHA lending and provide incentives for private market lending in government lending programs.
HUD Secretary Ben Carson announced the agreement during an address here this morning at the Mortgage Bankers Association's Annual Convention & Expo.
The agreement provides a framework for remedying False Claims Acts violations. Carson said it is aimed at addressing uncertainty regarding liability, which has caused many private lenders to exit FHA lending.
"This agreement clearly outlines our FHA mortgage program requirements, so they do not impede or discourage lenders from offering affordable FHA-insured loans to credit-worthy borrowers," Carson said. "In taking these steps, we are fulfilling an important element our Housing Finance Reform Plan and making clear to all responsible lenders that FHA's mortgage program is a program they should participate in."
At the same time, Carson cautioned, HUD will "not tolerate irresponsible or fraudulent lenders who defraud borrowers and taxpayers. We are thankful for the excellent relationship we have with our colleagues at the Department of Justice who have worked diligently with us on this effort and share our goal of advancing affordable housing finance while protecting the interests of taxpayers."
The Mortgage Bankers Association praised the announcement; MBA President & CEO Robert Broeksmit, CMB, said the agreement could encourage private lending involvement in government lending for low-income buyers.
"MBA applauds the efforts between DOJ and HUD to set guidance on the appropriate use of the False Claims Act," Broeksmit said in a statement. "We commend Attorney General William Barr and Secretary Ben Carson for their leadership and commitment to create an environment where lenders of all sizes–from depository institutions to independent mortgage banks–can operate with more certainty and less risk. Today is a significant step toward providing clarity for those currently participating in the FHA program, as well as encouraging more lenders to offer FHA-insured loans."
Additionally, FHA said it would revise the loan review process and simplify the certifications lenders make in connection with the FHA program. "These combined actions will go a long way toward ensuring that low-to-moderate income households and first-time buyers have access to affordable mortgage credit in order to achieve their dream of homeownership."
Attorney General William Barr said the Memorandum of Understanding sets forth a "robust and collaborative process" for deciding when to pursue False Claims Act cases to remedy material and knowing FHA violations.
"DOJ and HUD will work together to determine when HUD's administrative remedies are sufficient, or other recourse is appropriate, to address harm to the borrower, the taxpayer, or the government," Barr said.
Although the Memorandum of Understanding makes clear HUD expects that FHA requirements will be enforced primarily through HUD's administrative proceedings, specifically addresses how HUD and DOJ, including the U.S. Attorneys' Offices, will consult with each other regarding use of the FCA in connection with defects on mortgage loans insured by FHA. HUD will use the Mortgagee Review Board, which was created by statute and empowered to take certain actions for non-compliance by FHA lenders, to review and refer FCA claims.
The MOU prescribes the standards for when HUD, through the MRB, may refer a matter to DOJ for pursuit of FCA claims, and also sets forth how DOJ and HUD will cooperate during the investigative, litigation, and settlement phases of FCA matters when DOJ receives a referral from a third party, such as in qui tam cases. The MOU also recognizes that application of the FCA requires, among other elements of proof, a material violation of HUD requirements, and DOJ attorneys will solicit HUD's views to determine whether the elements of the FCA can be established.
Carson reminded MBA attendees when he spoke at the 2017 Annual Convention in Denver that reforms such as these were part of the Administration's vision to reform HUD and FHA. "I'm here to tell you we have fulfilled that goal," he said. Carson said he hoped the new guidance would spur more lenders to participate in FHA lending. "We need more people like you [lenders] on the team," he said. "With more people like you, the more credit we are able to extend to underserved borrowers…a rising tide floats all boats."