Departing GSE Leaders Cite Gains Under Conservatorship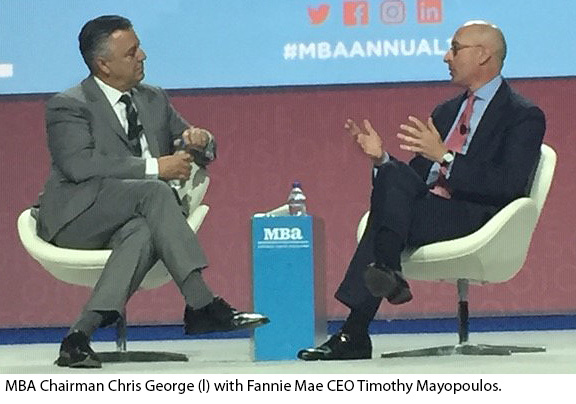 WASHINGTON, D.C.–Tim Mayopoulus joined lenders here at the Mortgage Bankers Association's Annual Convention & Expo on his last day of work at Fannie Mae.
Mayopoulos announced earlier this year his intent to retire as CEO. Last week, the government-sponsored enterprise announced Hugh Frater would take over as interim CEO and that Mayopoulus would be leaving Oct. 15–the same day he was scheduled to appear at #MBAAnnual18.
MBA Chairman Chris George noted both Fannie Mae and Freddie Mac have been under federal conservatorship for more than 10 years, far longer than anticipated. Mayopoulos agreed, but said the conservatorship, contrary to frustrations expressed by the real estate finance industry and by lawmakers and regulators, didn't result in paralysis.
"None of us expected the conservatorship to last this long, but in many ways it's been beneficial to us and the housing market," Mayopoulos said. "The conservatorship has been very successful. Both Fannie Mae and Freddie Mac have stabilized and are profitable again. We've seen tremendous innovations in technology that has made the lending process safer and more profitable. And we've seen very strong cultural changes that have resulted in stronger relationships with our customers that didn't exist before."
The crisis, Mayopoulos said, was a "humbling" experience. "There was a feeling that we had somehow failed the market, and it caused a lot of introspection," he said. "But it spurred greater partnerships with the lending industry and resulted in greater transparency."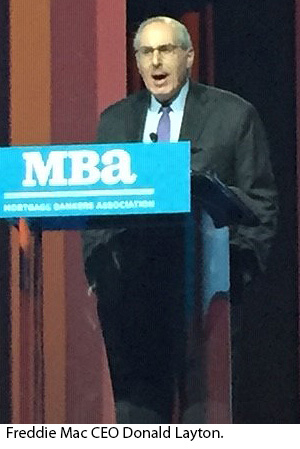 Moving from Fannie Mae's historic headquarters to a modern building in Washington, D.C. was symbolically important, Mayopoulos said. "Having everyone together in one place has really energized the workforce," he said. "It's a more open space, which encourages casual collaboration."
Mayopoulos said Fannie Mae and the lending industry must be continually adaptable. "The workforce is becoming younger and more diverse and as they move into homeownership we have to adapt to changing needs," he said. "Technology is also driving the process. We're going to see a radical shift in how lenders use technology."
For example, Mayopoulos said younger borrowers want to complete the mortgage process over the phone. "They don't want to fill our reams of paper," he said. "That's a very different process than we're used to and it's how we are going to have to respond within the next several year."
Technology will also change how lenders interact with borrowers. "The 'trusted advisor' will still be there, but will be successful only in their ability to deliver processes that customers have embraced," Mayopoulos said.
Mayopoulos said he has strong confidence in Frater. "He's familiar to a lot of people in this room," he said. "He's been on our Board for several years and he knows our business."
Mayopoulos plans to travel and take some time off, but says he plans to remain in the industry. "I have a passion for affordable housing and plan to be involved in the future," he said.
Mayopoulos's counterpart at Freddie Mac, Donald Layton, has also announced his intention to leave, later in 2019. He agreed with Mayopoulos that the conservatorship was a "momentous decision" that benefited the industry and consumers.
"What hath conservatorship wrought? A better housing finance system," Layton said. "The GSEs were not set up to be innovative. Over the past 10 years, they have become leaders in innovation."
Distressed borrowers were the first to benefit from the conservatorship, Layton said, by offering foreclosure alternatives and relief refinancing programs that helped more than 2.4 million Americans. Second, he noted, taxpayers benefited through the GSEs' reduction of investment portfolios (by more than 70 percent) and creation of transferring credit risk to private markets.
"This has transformed the capital markets," Layton said. "This is not your father's GSE; this is real and it's working and it's a powerful new business model."
The third beneficiary was access to credit. "First-time homebuyers now purchase 46 percent of homes, a record high," Layton said.
Finally, Layton said, conservatorship ultimately benefited lenders. "It's common knowledge that the mortgage process was one of the most backward, paper-driven industries 10 years ago," he said. "Our ability to improve customer service and technology has resulted in better service and cost savings."
"When I leave Freddie Mac next year, I do so knowing we made a lot of improvements and made the company better and helped create a better housing finance system," Layton said.