MBA Advocacy Update Nov. 20: Broeksmit Criticizes Bank Capital Proposal; FHA Annual Report to Congress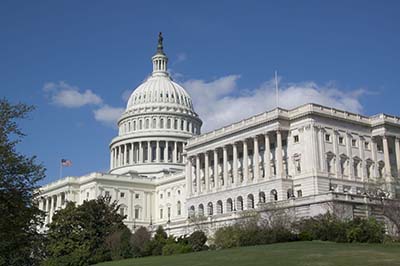 Bob Broeksmit: Increased Bank Capital Requirements Harmful to Consumers, Lenders, and the Economy
In a new blog post published on Wednesday, MBA President and CEO Bob Broeksmit, CMB, took aim at the federal bank regulatory agencies "end game" proposed rules – announced in July – to complete U.S. regulators' implementation of the Basel III standards.
Why it matters: Broeksmit said the proposed rule "is the wrong medicine for the wrong patient at the wrong time," and outlined how it impacts banks and nonbanks alike (large and small), disregards the vital role of private mortgage insurance, increases capital charges for warehouse lending facilities, and would result in less liquidity in the housing finance system.
Broeksmit also criticized the lack of any rigorous impact analysis in the proposed rule and recommended that regulators withdraw it until a study is conducted.
Why it matters: MBA strongly opposes certain provisions of the Basel III bank capital proposal that would undermine mortgage credit availability and has explained with lawmakers on Capitol Hill, regulators, and in the media about how the proposed rule could affect the economy, single-family housing market, and commercial real estate finance markets.
In September, Broeksmit testified before the House Financial Services Subcommittee on Financial Institutions and Monetary Policy, outlining how the proposal also undermines several current policy objectives of the Biden Administration, including efforts to close the racial homeownership and wealth gaps, the provision of affordable housing (both ownership and rental), the promotion of competition over consolidation, and the final Community Reinvestment Act (CRA) rule.
What's next: Comments on the proposal are due by January 16, 2024. MBA created a summary and is working with members and other industry stakeholders to formulate its response, with a focus on outlining the numerous negative impacts it would have on the housing finance ecosystem.
For more information, please contact Pete Mills at (202) 557-2878, Bill Killmer at (202) 557-2736 or Fran Mordi at (202) 557-2860.
FHA Actuarial Report Shows Strong Performance
Last Wednesday, the Department of Housing and Urban Development (HUD) published its Annual Report to Congress on the financial status of the Federal Housing Administration's (FHA) Mutual Mortgage Insurance Fund (MMI Fund). The report announced a strong combined capital ratio of 10.51% – a slight decrease from the 11.11% level in 2022 but still well above the statutory minimum of 2.0%.
FHA's report is also the first look at the actuarial impact of the MBA-supported, 30-basis point reduction to the annual Mortgage Insurance Premium (MIP) announced earlier this year for forward FHA-insured mortgages.
Why it matters: A healthy FHA program is necessary to ensure the broad availability of sustainable mortgage credit to low- and moderate-income households, minority borrowers, first-time homebuyers, and other historically underserved communities. The strength of this year's annual assessment of the health of the MMI Fund provides an opportunity for HUD to consider further changes to the level and structure of FHA premiums.
What's next: MBA will work with HUD as it evaluates any potential changes to FHA pricing. Broeksmit, in a statement shortly after the report was released, said "FHA's move to lower mortgage insurance premiums (MIP) earlier this year improved purchasing power for many homebuyers, but affordability challenges persist because of low housing inventory and high mortgage rates and home prices. Further action on the MIP, such as eliminating the life of loan premium requirement, should be considered to provide payment relief to FHA borrowers."
For more information, please see MBA's summary of the report or contact Darnell Peterson at (202) 557-2922.
MBA Requests FHA Foreclosure Guidance Following 'Show Me' Case
Last Wednesday, MBA requested guidance from FHA regarding the foreclosure process for loans with partial claims following the recent decision by the 8th Circuit Court of Appeals in Show Me State Premium Homes v. McDonnel (8th Cir. 2023).
Show Me held that a subordinate lien (other than a federal tax lien) held by the United States must be foreclosed by judicial action.
Why it matters: The holding in Show Me directly conflicts with FHA guidance that expects mortgage servicers to utilize the expeditious non-judicial foreclosure process. Servicers may now be forced to curtail potential claims for FHA mortgage insurance by completing a judicial foreclosure process but according to the nonjudicial timeframe and schedule of attorney allowable fees. The consequences of Show Me will have detrimental effects to borrowers and communities.
What they are saying: To reduce the adverse impact of the Show Me holding, MBA has requested FHA to introduce guidance to:
Clarify that a subordinate lien is divested from the mortgaged property and stipulate that HUD would release their partial claim following a non-judicial foreclosure; or
Permit servicers to proceed to a judicial foreclosure in non-judicial states when there is a partial claim involved, thereby increasing the related attorney fee allowable and extending the FHA's Reasonable Diligence timeframe.
Go deeper: Approximately 800,000 Stand-alone Partial Claims have been completed since March 2020, according to FHA's Annual Report.
What's next: MBA will continue to engage with all agencies regarding the consequences of Show Me and the need for guidance. MBA will also monitor and communicate any developments to members through MBA's Loan Administration Committee.
For more information, please contact Brendan Kelleher at (202) 557-2779.
Prudential Regulators Testify Before Congress
Last week, Fed Vice Chair for Supervision Michael Barr, Federal Deposit Insurance Corporation Chair Martin Gruenberg, National Credit Union Administration Chair Todd Harper, and Acting Comptroller of the Office of the Comptroller of the Currency Michael Hsu testified before the Senate Banking Committee (SBC) and the House Financial Services Committee (HFSC).
Go deeper: A summary of the SBC hearing is available here; HFSC hearing here.
Why it matters: The hearings focused on the rulemakings and guidance from the regulators — including the Basel III Endgame proposal; joint principles for climate-related financial risk management'; the long-term debt proposal; and the CRA final rule. Fed Vice Chair Barr in both hearings was asked to address the harmful housing impact of the proposed Basel III capital requirements.
What's next: Regulators will continue to face scrutiny from the financial services industry and Congress.
For more information, please contact Bill Killmer at (202) 557-2736, Alden Knowlton at (202) 557-2816, Ethan Saxon at (202) 557-2913 or George Rogers at (202) 557-2797.
Senators Urge VA to Protect Veterans from Foreclosure
Last Thursday, Senators Sherrod Brown (D-OH), Jon Tester (D-MT), Jack Reed (D-RI), and Tim Kaine (D-VA) urged Department of Veterans Affairs (VA) Secretary Denis McDonough to protect Veterans who used their VA home loan guarantee benefit to prevent a foreclosure. The letter, which calls for an extension of VA Refund Modifications with a foreclosure pause, can be found here.
Why it matters: Mortgage servicers have provided forbearance to approximately 7.92 million borrowers since March 2020, including Veterans. However, temporary relief options available for VA home loans during the COVID-19 emergency have expired.
What they're saying: Media coverage, including in NPR, has highlighted the industry concerns about the sunsetting of the VA partial claim and the support for reinstituting it. However, some coverage has sought to instead blame the industry. In a letter to the editor in response to an inaccurate Bloomberg story (re: opening of this newsletter), Broeksmit noted that VA's partial claim was a very useful tool that permitted forbearance to those facing hardships, and that the industry is currently working with the VA and Congress to make it a permanent loss mitigation option.
What's next: MBA will continue to work with the VA and Congress to advocate for permanent loss mitigation options that are effective, efficient, and scalable for veteran borrowers and servicers.
For more information, please contact Ethan Saxon at (202) 557-2913 or George Rogers at (202) 557-2797.
NMLS Version 6 Mortgage Call Report Update
Last week, the Board of Directors of the American Association of Residential Mortgage Regulators (AARMR) responded to MBA's request for them to urge states to provide a grace period on the implementation of the new Version 6 NMLS Mortgage Call Report (V6MCR). This language echoes a similar statement by the Conference of State Bank Supervisors (CSBS), which is also the result of direct MBA advocacy. CSBS is now providing a list of states offering a grace period along with each's duration. This list of states, and a newly released V6MCR FAQs document, are loaded on the V6MCR Resource Center and will be updated on a regular basis.
Why it matters: State regulators have insisted on a very tight timeline for members to implement the V6MCR, but are responding to MBA's call for significantly improved sources of information about the changes as well as for opportunities for members to discuss potential challenges.
What's next: MBA members should take advantage of two opportunities to get MCR implementation questions answered next week. First is the twice monthly CSBS "Office Hours" session at 1:00 pm EST on Monday's (click here for Zoom link). Second, CSBS staff will participate in an MBA Education Webinar on Tuesday at 1:00 PM EST (click here to register).
For more information visit the NMLS's MCR Resource Page, or please contact William Kooper (202) 557-2737 or Liz Facemire (202) 557-2870.
MAA Issues Call to Action to Oppose Revised Illinois CRA Rules
Last week, MBA's Mortgage Action Alliance (MAA) urged Illinois members to write to the Legislature's Joint Committee on Administrative Rules (JCAR) to oppose the newly revised proposed regulations to implement the state's CRA. If the rules are not approved by JCAR at its December 12th meeting, the Department of Financial and Professional Regulation (IDFPR) must re-propose them.
In a recent letter to JCAR, MBA and the Illinois MBA noted that several aspects of the rule had not been contemplated at all in the prior proposals or in the underlying statute. MBA urged JCAR to recommend a re-proposal of the rules.
Why it matters: The call to action asks MAA members in Illinois to act well ahead of the December 12 JCAR meeting in order to build momentum opposing these rules.
What's next: MBA and the Illinois MBA will continue to collaborate in representing the real estate finance industry.
For more information, please visit MBA's State CRA resource page or contact William Kooper (202) 557-2727 or Liz Facemire (202) 557-2870.
[VIDEO]: mPower Moments: On Balancing Motherhood and Career Success with MBA's Ashley Marshall
In this mPower Moments episode, Marcia M. Davies sits down with Ashley Marshall, Senior Social Media and Marketing Representative at MBA.
Go deeper: Ashley discusses her career journey at MBA and in marketing and social media strategy, and explains how supportive managers and taking calculated risks have positively impacted her career.
What's next: To watch more mPower Moments, click here.
For more information, please contact Marcia Davies at (202) 557-2707.
Upcoming MBA Education Webinars on Critical Industry Issues
MBA Education continues to deliver timely single-family and commercial/multifamily programming that covers the spectrum of challenges, obstacles and solutions pertaining to our industry. Below, please see a list of upcoming and recent webinars – which are complimentary to MBA members:
NMLS Mortgage Call Report (MCR) Version 6 – What You Need to Know – November 21
Community Reinvestment Act: Final Regulations and What Banks Need to Know Now – November 28
Originating and Succeeding with High-Net-Worth Borrowers – November 29
Ten Things Your Company Must Do in 2024 – December 12
California's Corporate Climate Data Accountability Act – December 14
MBA members can register for any of the above events and view recent webinar recordings by clicking here.
For more information, please contact David Upbin or (202) 557-2931.