FundingShield: Concerns of Wire, Title Fraud Still High in Q3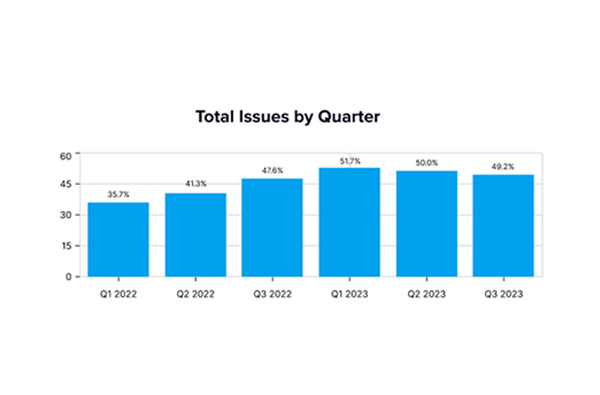 (Image courtesy of FundingShield)
FundingShield, Newport Beach, Calif., reported risks of wire and title fraud remained high in third-quarter data, although fairly flat from the previous quarter.
The report identified 49.2% of loans in the quarter as having at least one risk issue. Q2 clocked in at 50%, and the number was as low as 35.7% of loans in the first quarter of 2022.
Through the quarter, problematic loans had almost 2 issues per loan.
Insurance-related issues were at a record high, with 8.9% of transactions having agents with inadequate coverage, up 62% from Q2. FundingShield posits the jump is due to more agents failing to maintain sufficient coverage limits.
Additionally, the report noted, parties are having issues qualifying for insurance with some significant rises in premiums. And, companies that are vulnerable to high levels of cybercrime are harder for insurance companies to underwrite.
About 6% of the transactions had wire account-related issues, up almost 3% from last quarter.
The report pointed to an increase in bank accounts registered to unlicensed third parties, and wire account data transmission security issues and control-related issues at escrow and title companies.
"Tech innovations that have been deployed by mortgage companies have helped bring down closing costs, however these emerging technologies being introduced such as AI -driven microservices continue to add new vulnerabilities and gaps that can be exploited by threat actors," FundingShield CEO Ike Suri said. "We expect this trend to continue to rise in the near future."