Commercial Property Prices Down 15% From Last Year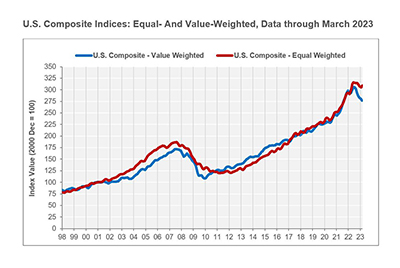 (Courtesy CoStar Group, Washington, D.C.)
Green Street, Newport Beach, Calif., reported its Commercial Property Price Index decreased 0.2% in March and has fallen by 15% since property prices peaked a year ago.
"Transaction volumes remain low, but our estimates put the bid price about 15% lower than it was a year ago," said Peter Rothemund, Co-Head of Strategic Research at Green Street.
Rothemund noted the change in pricing varies by property type. "Office has seen the largest price declines, where even high-quality properties are down 25% over the past year," he said.
CoStar Group, Washington, D.C., said its Commercial Repeat Sale Index had mixed results in March. The research firm's value-weighted index, more heavily influenced by high-value trades common in core markets, fell for the eighth consecutive month to 277, a decline of 1.3% over the prior month. The index also slumped 5.2% over the past 12 months. Conversely, the CoStar equal-weighted index, which reflects the more numerous but lower-priced property sales typical of secondary and tertiary markets, rose 1.3% in March following seven months of declines over the past eight months. The index gained 4.8% during the past 12 months.
But both indexes have seen a broad deceleration trend for the last nine months as markets respond to higher interest rates and falling tenant demand, CoStar noted.
CoStar reported distressed commercial real estate sales remain low. Only 24 of the 1,164 repeat-sale trades in March–about 2.1%–were distressed sales. In comparison, the monthly average share of distressed sales in the five years ending in February 2020, before the COVID-19 pandemic, was 3.6%.
CoStar said its index of prime industrial properties remained in positive territory in the first quarter. Office process continued to decline, retail prices dipped 0.2% and the hospitality index rose 1.4% in the first quarter of 2023.
"Demand was strong in the luxury [hotel] segment," the report said. The impact of higher interest rates was most visible in the multifamily index, CoStar said. The firm's equal-weighted multifamily index fell 2.4% in the first quarter and dropped 2.2% over the past 12 months. "The U.S. Multifamily Index showed the sharpest annual decline in values since the interest rate hiking cycle began in the first quarter of 2022," the report said.