Slowing Economy Reaches Small-Cap Commercial Real Estate
Boxwood Means LLC, Stamford, Conn., said weaker economic conditions on Main Street are impeding small-cap commercial real estate.
"It was only a matter of time before weaker conditions on Main Street would bleed through and impede small-cap CRE occupier fundamentals," said Boxwood Means Principal and Co-Founder Randy Fuchs. "And indeed, it has: small-cap commercial leasing activity retreated during the first quarter for the first time since the pandemic era."
Fuchs noted GDP growth increased at a decreasing 1.1 percent annual rate during the first quarter, less than half the rate seen in the previous quarter. "As a result, small businesses face rising challenges to profitability from higher input and financing costs and lower sales," he said. "According to NFIB's March report, optimism among small business owners was at the lowest level since at least 2018, and owners' outlook for growth was downbeat because of their concerns over near-term economic conditions."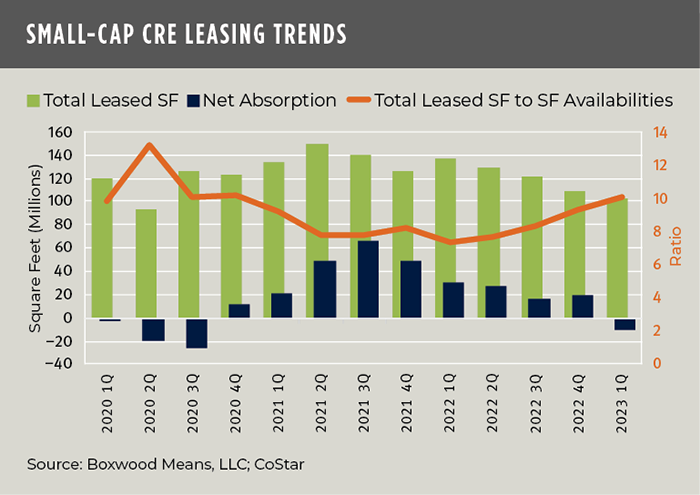 These economic uncertainties translated into significant pullback in office and industrial leasing activity, Boxwood Means said in its latest Small Cap Trends report. The office and industrial sectors suffered occupancy losses totaling a combined 14 million square feet.
But the small cap retail sector produced a positive surprise, the report noted. "The staying power of neighborhood retail and strip centers is continually underestimated," Boxwood said. "Predictably, in-person shopping has returned big time and retail demand was also fired up by robust first quarter consumer spending and growth in disposable personal income." As a result, retail registered five million square feet of occupancy gains, blunting the sector's nominal uptick in sublet space and holding the total vacancy rate in check at a record-low 3.5%.
"The incident of negative space absorption [in the office and industrial sectors], coming after nine consecutive quarters of encouraging, positive demand since the tapering of the pandemic's chaos, may not be a one-off, that is, it may signal more fallout ahead for Main Street businesses and commercial real estate," Fuchs said. "Note that an instance of two or more consecutive quarters of negative absorption have occurred twice over the past 15 years–both associated with economic recessions. However, while a macroeconomic slowdown is clearly afoot, the recession that many observers expected in the first quarter failed to transpire and may not arise in the second quarter either if the nation's economic and employment conditions remain resilient."