Dealmaker: Berkadia Secures $56M in Multifamily Construction Financing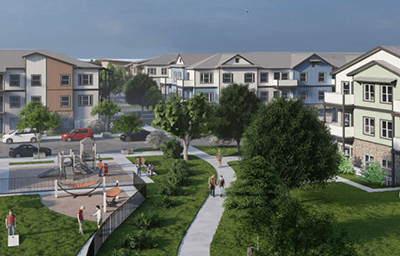 (The Granary, Fort Collins, Colo. Illustration courtesy Berkadia.)
Berkadia, New York, secured $55.9 million in construction financing for The Granary, a garden-style multifamily property in Fort Collins, Colo.
Managing Director Jennifer Quigley of Berkadia Denver secured the permanent construction financing for borrower Fairway Apartments LLC, Fort Collins. The deal closed on April 20.
The 221(d)(4) 40-year construction loan, financed through HUD's Green Program, closed at a 5.10 percent interest rate.
"We've experienced increased rental housing demand in the front range of Colorado as well as strong rent growth, which helps to support these kinds of developments in the face of ongoing construction cost increases," Quigley noted. "With the run up of interest rates in 2022, we were certainly glad to be able to lock a fixed-rate non-recourse construction loan for this valued client at a rate almost as low as 5 percent."
Located at the intersection of West Fairway Lane and South College Avenue, The Granary will include 264 residential units. When complete, the project will include a co-working lounge with private offices, community kitchen, electric car charging stations, bike/ski shop and an on-site management office. The community, which will have 36 studios, 94 one-bedroom, 104 two-bedroom units and 30 three-bedroom units is set to deliver by December 2024.