MBA Advocacy Update May 22, 2023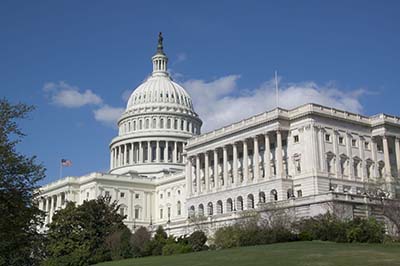 Bill Killmer bkillmer@mba.org; Pete Mills pmills@mba.org
MBA Files Amicus Brief in CFSA v. CFPB
On Monday, MBA filed a joint amicus brief with the Supreme Court in Community Financial Services Association v. Consumer Financial Protection Bureau, where CFSA is challenging the constitutionality of the Bureau's funding structure. The brief takes no position on whether the Bureau is constitutionally funded – that issue is well-addressed in other briefs – and instead focuses the Court's attention on how to avoid disrupting the housing and mortgage markets and, harming both consumers and the economy. MBA suggests that, if the Bureau's funding structure is ruled unconstitutional, the Court should sever those funding provisions and preserve the Bureau's past actions until Congress corrects the constitutional appropriations problems.    
Why it matters: While there is no immediate impact on the mortgage rules from the 5th Circuit decision, MBA decided to get involved because the logic of the decision raised questions about the constitutionality of other CFPB rules and operations. MBA is concerned that, should the funding structure be struck down, the rules MBA members rely on to comply with the Dodd Frank statute – including important safe harbors like the Qualified Mortgage – could also fall, exposing lenders and servicers major compliance and legal risks.
What's next: The Bureau's appeal of the Fifth Circuit Court of Appeals decision in CFSA v. CFPB will be heard by the Court during its next term, beginning on October 1. MBA will keep members informed about any updates. 
For more information, please contact Justin Wiseman at (202) 557-2845 or Gabriel Acosta at (202) 557-2811.
FHFA Requests Input on the GSEs' Single-Family Pricing Framework
On Monday, the Federal Housing Finance Agency issued a Request for Input on Fannie Mae and Freddie Mac's single-family pricing framework. The RFI focuses on various aspects of the process for setting the GSEs' upfront guarantee fees and loan level price adjustments. Notably, Director Sandra Thompson stated that FHFA "seeks input on how to ensure the pricing framework adequately protects the GSEs' and taxpayers against potential future losses, supports affordable, sustainable housing and first-time homebuyers, and fosters liquidity in the secondary mortgage market." She also emphasized FHFA's commitment to transparency during this process.       
Why it matters: This RFI was promised in conjunction with FHFA's decision last week to repeal the debt-to-income ratio LLPA. It is responsive to policy maker and industry commentary about the recent changes to the GSEs' pricing framework, which have caused controversy in recent weeks. MBA urges FHFA to continue its engagement to improve clarity and transparency on its pricing decisions.
What's next: FHFA invites interested parties to respond to the RFI by August 14. MBA will continue analyzing the RFI in the coming weeks and work with members on next steps before formulating a response. 
For more information, please contact Sasha Hewlett at (202) 557-2805.
House Financial Services Subcommittee Convenes Hearing on FHFA's Recent Pricing Changes
On Wednesday, the House Financial Services Subcommittee on Housing and Insurance held a hearing, "The Current Mortgage Market: Undermining Housing Affordability with Politics." The hearing discussion focused on the FHFA loan-level pricing adjustment (LLPAs) updates to the GSEs pricing framework announced in January. A full summary of the hearing can be found here .  
Why it matters: MBA submitted a Statement for the Record ahead of the hearing that gave an overview of changes to the pricing grids, including our successful advocacy that ultimately led to FHFA announcing the rescission of the proposed debt-to-income-based LLPAs last week. The statement also focused on MBA's concerns regarding GSE pricing variations for Third-Party Originated loans, the need for Congress to act on broader reforms to the GSEs, and our recommended core principles to ensure a sustainable and more vibrant secondary market. On Monday, MBA President and CEO Bob Broeksmit, CMB, was interviewed on CNBC's Closing Bell Overtime and discussed the GSEs' pricing changes. Watch the full interview here. 
What's next: The hearing serves as a precursor to FHFA Director Sandra Thompson's appearance before the Financial Services Committee on May 23. House Republicans are expected to introduce legislation that will rescind the recent LLPA changes, direct the Government Accountability Office to publish a study on LLPAs, and subject FHFA to a more transparent process for any future pricing changes. MBA will continue its engagement with FHFA, lawmakers, and industry stakeholders to ensure clarity and transparency regarding the GSEs' pricing framework and looks forward to responding to the RFI that FHFA released on Monday.
For more information, please contact Alden Knowlton at (202) 557-2741 or Borden Hoskins at (202) 557-2712.
Senate Banking Committee Holds Hearing on Recent Bank Failures
On Thursday, the Senate Banking Committee held a hearing, "Oversight of Financial Regulators: Financial Stability, Supervision, & Consumer Protection in the Wake of Recent Bank Failures." Witnesses included Martin Gruenberg, Chairman of the Federal Deposit Insurance Corp. and Michael Barr, Vice Chairman for Supervision of the Board of Governors of the Federal Reserve System. A summary of the hearing can be found here.        
Why it matters: Gruenberg testified in favor of targeted FDIC coverage of business accounts to increase financial stability. He also said the FDIC is reviewing public comments on the Community Reinvestment Act and considering efforts to enhance its effectiveness.
What's next: Options for expanding deposit insurance coverage to cover business accounts in response to the bank failures would require congressional action.
For more information, please contact Ethan Saxon at (202) 557-2913 or Tallman Johnson at (202) 557-2866.
MBA Submits Comments in Response to CSBS' Proposed Mortgage Industry Licensing Standards
On Monday, MBA submitted comments in response to the Conference of State Bank Supervisors' proposal on the Mortgage Business-Specific Requirements, the most recent installment of its overall Nationwide Mortgage Licensing System modernization efforts. MBA's comments, reflecting feedback from members of its State Legislative & Regulatory Committee, support efforts by regulators to seek consistency among state requirements, but also urges CSBS to give attention to the need to accommodate specific state requirements within the NMLS system.
Why it matters: CSBS has been working towards modernizing the NMLS through various proposals, and MBA will continue to caution them to avoid any changes that unintentionally create new regulatory requirements through system changes, rather than through appropriate state law changes or rulemakings.
What's next: MBA will follow developments and will continue its ongoing conversations with CSBS, advocating for sufficient time between roll out and full implementation.
For more information, please contact Liz Facemire at (202) 557-2870.
Lawmakers Reintroduce Bipartisan Bill Aimed at Flawed IRS Implementation of Updated IVES System
Last week, Reps. Patrick McHenry (R-NC), Chairman of the House Financial Services Committee, and Jimmy Panetta (D-CA), a member of the House Ways and Means Committee, reintroduced the IRS eIVES Modernization and Anti-Fraud Act (H.R. 3335). The bill would amend the Taxpayer First Act to clarify that taxpayer identity verification is the responsibility of users of the system, rather than the taxpayer, to ensure the successful development of the electronic Income Verification Express Service (IVES) system of the Internal Revenue Service (IRS). 
Why it matters: As part of the bipartisan Taxpayer First Act, enacted in 2019, Congress required the IRS to implement much-needed updates to its IVES system that financial services providers use to submit Form 4506-C to verify a credit applicant's income, helping to prevent fraud and ensure accurate underwriting. The legislation included a temporary, two-year user fee increase to pay for the upgrades. MBA, in coalition with other stakeholders, has met with members of Congress, key congressional committees, and the administration to highlight the problems with the proposed IRS solution. The IRS is moving forward with an unnecessarily costly and overly complex system that does not meet the original intent of Congress.
What's next: MBA will continue working with Congress to pressure the IRS to overhaul and update the IVES system.
For more information, please contact Alden Knowlton at (202) 557-2741, Borden Hoskins at (202) 557-2712 or Rick Hill at (202) 557-2718.
MBA Responds to FHFA's Request for Input on the GSEs' Single-Family Social Bond Program
Last week, MBA submitted comments to FHFA in response to its RFI on the GSEs' social bond policy. The RFI is aimed at helping FHFA understand the opportunities and potential risks associated with the GSEs issuing single-family social bonds under the framework of Environmental, Social, and Governance (ESG) securities. MBA urged FHFA and the GSEs to ensure borrower benefits are clearly defined, monitored, and reported, and recommended that criteria for qualifying loans be clearly defined and tied to industry data standards such as the MISMO framework currently under development. MBA also stressed that data disclosures should be appropriately balanced to protect borrower privacy while serving investors and minimizing lender compliance burdens.          
Why it matters: Currently, each GSE issues labeled multifamily social bonds—neither issues labeled single-family social bonds. The GSEs' establishment of a social bond program should provide investors with the additional information that they seek and promote sustainability, affordability, and equity in homeownership.
What's next: MBA welcomes the opportunity to meet and discuss its feedback and encourages FHFA to collaborate with the MISMO ESG Community of Practice as they continue to develop their Social Bond Framework. MBA will continue to work with FHFA on this and other critically important housing issues.
For more information, please contact Sasha Hewlett at (202) 557-2805.
Lawmakers Send Bipartisan Letter Addressing MBA Concerns in Pending CRA Proposal
Last week, a bipartisan group of House Financial Services Committee members, led by Reps. Frank Lucas (R-OK) and Emanuel Cleaver (D-MO), sent a letter to Federal Reserve Chairman Jerome Powell, FDIC Chairman Martin Gruenberg, and the Office of the Comptroller of the Currency Acting Comptroller Michael Hsu that urged the agencies to make a technical, but important clarification in the final proposed rule to modernize the Community Reinvestment Act. As written, the proposed rule is unclear regarding treatment of repurchases of delinquent mortgage loans from a Ginnie Mae pool, which are heavily concentrated in low- and moderate-income areas and to LMI borrowers. Absent clarification, the rule would unintentionally penalize lenders for exercising an option provided by Ginnie Mae that is necessary in some cases to keep borrowers in their homes. This would unfairly penalize banks involved with Ginnie Mae servicing for engaging in activities that are important for market liquidity and to LMI borrowers and communities.        
Why it matters: MBA staff briefed lawmakers on this critical issue in recent weeks, including last month during the National Advocacy Conference. The resulting letter offers two MBA-supported solutions to the agencies: 1) rely on borrower income from origination to determine LMI status in the borrower distribution metric; or 2) exclude purchased government mortgages and Ginnie Mae buyouts from the CRA borrower distribution metric altogether so that participation in a government mortgage program does not harm a bank's CRA performance.
What's next: The agencies have indicated that the final rule may be issued this year. MBA will continue to monitor progress and report back with any relevant updates.
For more information, please contact Alden Knowlton at (202) 557-2741 or Borden Hoskins at (202) 557-2712.
Remote Work Progress in Florida, Illinois, and Nevada
MBA's efforts with its partner associations to enact remote work flexibilities for loan originators continues to gain momentum. Bills in Florida (HB-1185) and Illinois (HB-2325) have cleared both chambers in their legislatures and now await gubernatorial consideration. A bill in Nevada (AB-284) has unanimously passed the state Assembly and is now being evaluated by committees in the Senate. Unfortunately, a filibuster unrelated to industry issues in Nebraska's unicameral legislature has delayed consideration of LB-214 until the final days of this year's legislative session.
Why it matters: 26 states and D.C. have enacted policies that permanently allow MLOs to work from a remote location that follow the contours of MBA's model state law and regulation.   
What's next: MBA will continue to work with its members and partner state associations to support remote work policies consistent with the association's model.
For more information, please contact William Kooper at (202) 557-2737 or Liz Facemire at (202) 557-2870.
MBA Issues MAA Call to Action in Connecticut to Amend RON Legislation to Include Mortgages
MBA's Mortgage Action Alliance issued a Call to Action last week supported by the Connecticut MBA that urges Connecticut MAA members to contact their state House members to ask they amend SB-1040 Remote Online Notarization (RON) legislation, which would limit the scope of RON by excluding real estate transactions. This bill recently passed the Connecticut Senate and needs to be amended in the House.
Why it matters: Connecticut would become the first of 44 states and D.C. to enact RON with this exception. Connecticut's real estate agents, title companies, lenders, and other stakeholders need RON to align with 21st century consumer choice expectations.
What's next: The House has received the Senate bill and could consider it before the Legislature adjourns in early June. Connecticut MAA members need to visit the Call to Action website to contact their Connecticut House member today and urge him/her to take the necessary actions to amend the scope of this bill's provisions to include real estate transactions.
For more information, please contact William Kooper at (202) 557-2737 or Rachel Kelley at (202) 557-2816.
Sign Up for the 8th Annual MAA Action Week
The Mortgage Action Alliance, MBA's free grassroots advocacy network, will hold its eighth annual Action Week on June 12-16. MAA Action Week is a national, industrywide campaign aimed at growing MAA and activating real estate finance professionals in key states and congressional districts. MAA has over 60,000 active members nationwide in an industry of more than 400,000 employees.  
Why it matters: More than 100 companies participated in last year's MAA Action Week, generating more than 5,000 new sign ups and 14,500 renewals. Collectively, MAA members have sent over 120,000 emails this year to elected officials supporting calls to action to protect our industry. It remains critical that our industry unite to play an active role in shaping legislation and regulations that impact our companies, our customers, and the broader economy.
What's next: MBA's goal is to grow and sustain its active MAA membership to at least 65,000 through company enrollment campaigns. Complete this form for more information and to participate. 
For more information, please contact Jennifer Nguyen at (202) 557-2710.
Upcoming MBA Education Webinars on Critical Industry Issues
MBA Education continues to deliver timely programming that covers the spectrum of challenges, obstacles and solutions pertaining to our industry. Below, please see a list of upcoming webinars – which are complimentary to MBA members:
What Trends Will Shape the Lending Space in the Second Half of 2023 – June 1
Profit & Succeed with Down Payment Assistance Programs – June 8
Benchmarking for Performance and the Performance Ratios Every Mortgage Banker Must Know – June 13
MSR Transfers: Balancing Risk, Customer Experience and Efficiency – June 15
How to Leverage Document AI for Unparalleled Efficiency in Loan Production and Loan Servicing – June 27
MBA members can register for any of the above events and view recent webinar recordings. For more information, please contact David Upbin at (202) 557-2931.