Apartment Asking Rents Climbing at Slightly Subdued Pace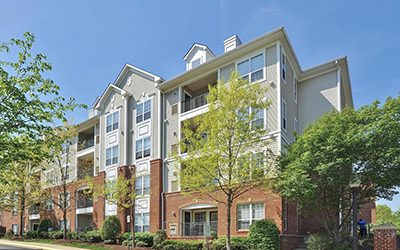 Zillow, Seattle, reported apartment asking rents climbed by 0.6%, or $12, from March to April, bringing the Zillow Observed Rent Index to $2,018.
The monthly increase is slightly smaller than April's typical 0.7% increase, suggesting today's growth is still driven mainly by seasonal factors and that overall leasing conditions are still somewhat cool for this time of year, Zillow said. Typical asking rents nationally now stand 0.5% higher than the $2,008 prior peak observed in September 2022. But that annual growth rate is down almost 12 percentage points from the peak growth rate of 16.9%, the record-high pace reached in February 2022.
Zillow Economist Jeff Tucker noted that six months ago he urged inflation watchers to mark their calendars to see if official measures of annual rent inflation would begin to decelerate in the March data. "That prediction was based on research showing that annual growth in the Consumer Price Index's Rent of Primary Residence component follows changes in annual Zillow Observed Rent Index growth with a 12-month lag," he said. "Since the year-over-year change in ZORI began to decline in March 2022, a one-year lag would imply deceleration in CPI should begin this March."
That prediction has nearly come to pass, Tucker said: the annual growth rate of the CPI's Rent of Primary Residence component equaled 8.8% in March, unchanged from February's rate. The flatlining annual growth rate arrived due to a sudden plunge in the monthly growth rate, which fell to a 5.6% compounded annual growth rate, well below its 11.1% pandemic-era peak.
"The data this spring seems to confirm that we are somewhere near the summit for official annual CPI rent inflation, and the deceleration of asking rents measured by private-sector indices like ZORI should eventually flow through into the CPI," Tucker said.
Zillow reported apartment rents ticked up in every major metro, led by the Northeast. Rents rose the most on a monthly basis in Providence, R.I. (1.7%), San Diego (1.3%), Hartford, Conn. (1.3%), New York (1.3%) and Boston (1.2%). "Broadly, these data confirm the continuation of a strong spring leasing season for rental homes in the Northeast," Tucker said. "It likely also reflects the continued process of more workers returning to offices, boosting rental demand in those cities."
Buffalo, N.Y., Portland, Ore., and San Antonio saw the slowest monthly rent growth in April with 0.1%. "None of the 50 largest metropolitan areas had monthly declines, suggesting that the return to rent growth has been broad-based," Tucker said.