U.S. Hotel Construction Pipeline Increases in All Project Stages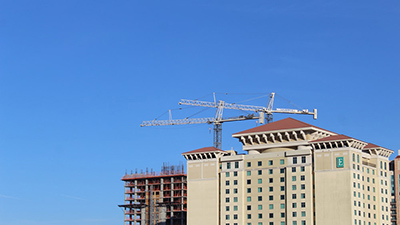 Lodging Econometrics, Portsmouth, N.H., reported the U.S. hotel construction pipeline increased in all project stages compared to a year ago.
In its latest United States Construction Pipeline Trend Report, LE calculated 5,545 projects with 658,207 guest rooms in the pipeline as of March 31, up 9% by both projects and rooms year-over-year. First-quarter project totals fall just 338 projects behind the record high of 5,883 projects recorded in 2008.
Hotel projects currently under construction total 1,051 projects with 140,365 rooms, each showing 9% growth year over year. Projects scheduled to start construction in the next 12 months equal 2,060 projects with 241,568 rooms, each up 8% from a year ago. Properties in the early planning stage account for 44% of hotel projects in the total U.S. construction pipeline and early planning projects increased 10% year-over-year to a record high 2,434 projects with 276,274 rooms.
"This is the fourth consecutive quarter of total pipeline growth for the U.S., which can be, in part, attributed to the robust recovery of travel demand," LE said in the report. "Increased consumer confidence and spending activity has fueled strong occupancy and rate growth throughout the last twelve months as well. Developers are motivated to sign new projects anticipating more favorable financing conditions in the coming quarters. Owners are eager to wrap up existing brand conversion and renovation projects, which have been a substantial focus for many quarters now."
LE noted it expects the U.S. hotel construction pipeline to grow modestly or just incrementally through 2023. "There are no growth spikes expected this year," the report said. "The pipeline is back-loaded, meaning there is ample opportunity for vendors/suppliers in the industry and third-party management companies."
In a separate report, LE said Marriott International has the most hotel projects in the pipeline with 1,499 projects/181,377 rooms, followed closely by Hilton Worldwide, with a record-high count of 1,436 projects/161,359 rooms and then InterContinental Hotels Group with 809 projects/80,679 rooms. "Combined, these three franchise companies comprise more than two-thirds of the projects in the total U.S. pipeline," LE said.